Affirmations; how do you apply them in your yoga practice?
Have you always had an uneasy feeling about people who stand in front of the mirror Emile Ratelband style and shout to themselves a hundred times that they are fantastic? I certainly do. Yet affirmations—those positive, reinforcing phrases—have an effect on your brain and how you feel. Just not always and not under all circumstances.
Read in this blog what affirmations are, under which circumstances they do work and what the effect is, and what yoga and affirmations have to do with each other.

What are affirmations?
Affirmations are empowering, positively worded, short phrases that you say - in thought or out loud - repeatedly that influence your subconscious. You reprogram your beliefs, the story you believe in.

You bend negative thought patterns into positive ones. An example of an affirmation is "I am loved.

What is the effect of affirmations?
An affirmation is really just a thought. The more often you have a particular thought, the more you start to believe in it and the more it will manifest in your life. You start feeling better about yourself, you calm yourself down, become more confident and become less anxious.
Essentially, you have been using affirmations your whole life, thoughts about yourself and your life, unfortunately they are usually not so positive. For example, you tell yourself that you cannot do something or that you are not worth something.
Tell yourself often enough that you cannot do something and one day it will become true. Hence, it is important to incorporate positive thoughts into your life. After all, your brain is programmed to believe what you see or hear often.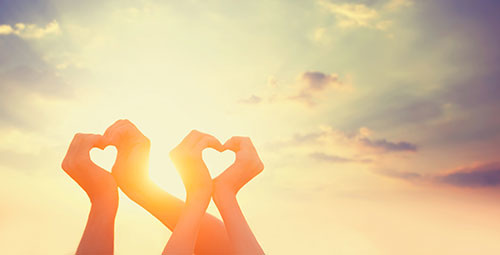 'Life loves me'
Why affirmations don't always work
The secret is that you use affirmations to reinforce something already inside you. Repeating six hundred times how happy you feel while being severely depressed unfortunately does not work.

Don't just simply repeat a string of words, but take the time to choose words that really suit you and mean something to you. That way, with the affirmation, you are giving space to what is already there, rather than forcing something that is not there, or putting a plastic fantastic layer over something. Formulate a realistic affirmation, for example, "I am okay. I'm good enough the way I am.'

If there is deeper trauma present, you will not be able to resolve it with affirmations. The discrepancy between what you say and how you feel is simply too great. Process the trauma in another way, possibly with expert help.

Research on affirmations
According to two independent scientific studies, affirmations work better the more confident people already are. When people have really low self-confidence (perhaps due to underlying trauma), affirmations can even work in the opposite direction.
The researchers think it is because people with low self-confidence do not believe the statements at all and instead confronts them with the fact that they do not live up to the content of the affirmation.

Yoga and affirmations
Now we come to the question in the title of this piece, what about yoga and affirmations? How do you use them within your yoga practice?
It's actually the other way around. To make your subconscious as well as conscious mind as receptive as possible to the affirmations, a yoga session beforehand is ideal. If you are in a meditative state, the resistance to the positive phrases is a lot lower, your existing programming is less 'in the way'.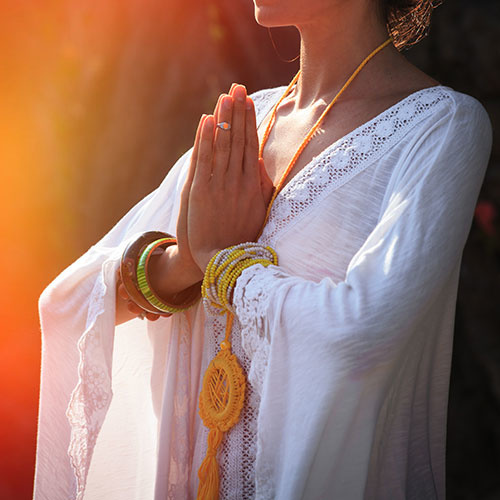 'I see possibilities'
Best yoga form for affirmations: yoga nidra
Perhaps the best yoga form for this is yoga nidra. With yoga nidra, also called "sleep yoga," you enter into a very deep relaxation, sometimes almost trance-like. Your brain sends out more theta and delta waves, which cause you to process experiences and are associated with the creation of new cells.
Interested in yoga nidra? Learn more about this deeply relaxing yoga form here.

Meditation and affirmations
The same applies to meditation as to yoga; by meditating before you speak your affirmations, you give more power to your affirmations and intentions. Meditating puts you in a receptive state which makes your affirmations much more impactful.

Choose an affirmation that suits you
Formulate the affirmation positively and in the present tense. Think about what your values are and what you find important in your life right now. Where do you want to go? What is your direction?

How do you use affirmations?
You can use them throughout the day, at your desk, while brushing your teeth or showering, or as the last activity before you fall asleep. If you choose a set time for it, you'll keep it up easier.

Say your affirmation to yourself every day for four weeks, giving yourself time and space to integrate a new habit into your life. Important: don't spend the rest of the day complaining, because those few positive affirmation minutes won't save you!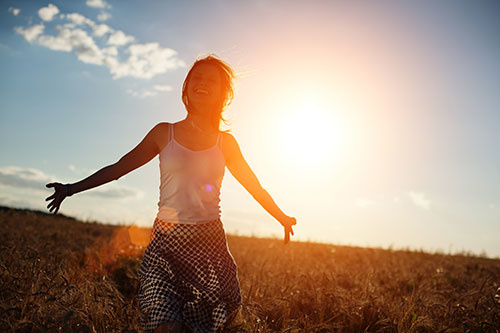 'I love and approve of myself'
Examples of positive affirmations
Below are some short affirmations that can help you in the areas of love, self-love and self-confidence.
Affirmations for self-confidence
I dare
I see possibilities
I accept myself as I am
I am powerful
I am creative
Affirmations for self-love
I take time for myself
I am peace
I give myself space to make mistakes
I am all that is
I give my body what it needs
Affirmation for more love in your life
I am loved
I have love
I am grateful
I love life
If you want more inspiration for powerful affirmations you can check out this English-language blog.

Louise Hay affirmations
In the 1980s, Louise Hay wrote a bestseller about using affirmations, You Can Heal Your Life. She still seems to be the undisputed queen of affirmations, although she sadly passed away in 2017.
Two well-known affirmations of hers are:
I love and approve of myself 
Life loves me 
Louise Hay's video below is a 30-minute meditation with her affirmations, she also explains how the affirmations create new patterns in your brain. Give it a try, this meditation has already helped many people. Just look at the comments below the video.

Final tips before you get started
If after reading this blog you plan to get started with affirmations I have a few more tips for you.
Write one or two affirmations on a post-it and hang them somewhere you see them often, such as on your mirror or refrigerator. If you say the affirmations while you have your hand on your heart, and go to your heart with your attention, you empower the words with your incredibly powerful heart energy.

If you want to read more on this topic, you can of course read Louise Hay's book, You Can Heal Your Life, or any of her other books such as Mirror Work. The following books are also recommended: I AM by Susan Shumsky or The Power of Positive Thinking by Dr. Norman Vincent Peale.

You can do it! Or actually, you should say, I can do it! ;-)