How do I choose a meditation cushion?
How do I choose the best meditation cushion if I want to buy one?
Why purchase a meditation cushion?
You can meditate everywhere, and in many ways: you can meditate while walking, lying down, sitting on a chair, but the most common way to practice meditation is still sitting on a meditation pillow.
On a meditation cushion it is easier to sit upright for a long time, which is important to keep your mind clear and alert. You also make good contact with your own base and with the ground on a cushion.
The advantage of having your own meditation cushion is that it supports your meditation not only physically but also mentally: If you sit on the same cushion every day, you condition your body and mind as it were. Your body will know over time: 'oh, the pillow, now it's time for meditation'. The silence, concentration and depth of the meditation come faster than if you would practice on a different cushion every day, or on a chair, then on your bed, etc.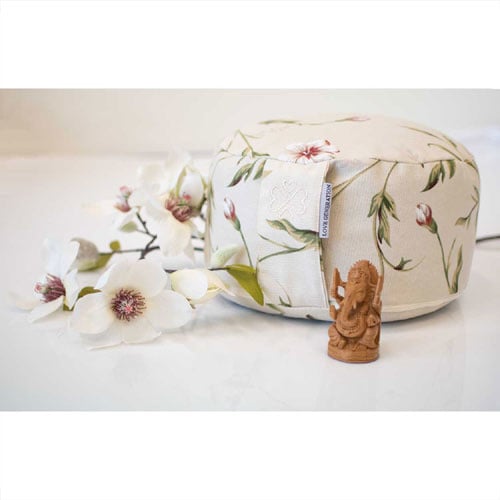 What is important to pay attention to when buying a meditation cushion?
A goodmeditation cushion offers solid support, and has exactly the right height for your body height. It goes without saying that the materials must be durable and that it is nice if you can wash the cover from time to time. A not too heavy yet sturdy filling is also very important.
Also choose a pillow that appeals to you most in terms of color and decoration. If you choose a pillow that you really like the most and fits the place where you want to use it then that supports your motivation to return to it time and time again.
The filling: organic buckwheat husks
Buckwheat has hard dark brown skins around the seeds that are a bit dense. Actually this is a residual product in the harvest of buckwheat. These buckwheat caps are very sturdy and hard, and have a semi-convex shape. This makes them the ideal filling for meditation cushions; on the one hand, there is enough air between the shells that the cushion remains reasonably light in weight, and also maintains exactly enough resilience, on the other hand, the skins are joined in such a way that they give optimum strength without being flattened very quickly.
For the filling of a meditation cushion from Love Generation only organically grown buckwheat chaff is used.
The cover: indestructible cotton canvas
The covers of the meditation cushions by Love Generation are made of a very heavy quality cotton canvas. This material is practically indestructible and makes it possible to sit on even rougher ground without damaging your cushion.
The outer cover has a handy wide strap and a zipper all around the bottom of the pillow. This makes it, unlike most other cushions on the market, really easy to remove the outer cover for eg a washing.
The inner cushion is made of 100% (unbleached) cotton and has a zipper on the side. This makes it easy to take out some padding and adjust your pillow to your perfect seat height.
What is the correct seat height of a meditation cushion for me?
The round meditation cushions are 15 cm high. For people who have no problem sitting cross-legged and / or practice yoga, this could be too high. However, we fill our cushions as high as possible, so that you can determine the height yourself by taking out the filling.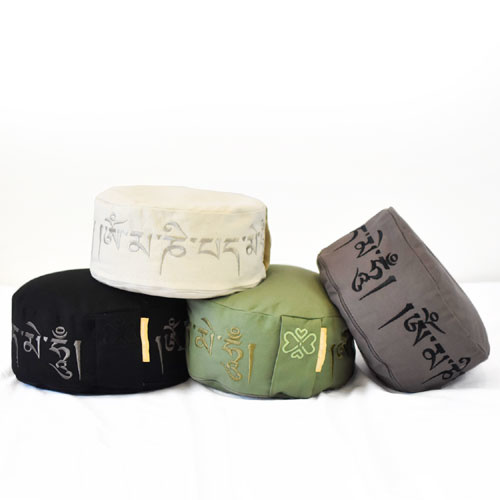 Are you very comfortable in lotus or cross-legged? Then take a little more of the padding out of the pillow, if not, leave a little more padding for a slightly higher seat. By experimenting you quickly discover which height suits you best.
Also try out a different sitting posture. If you tilt a round cushion on its side, you can also move forward with your knees and your feet flat backwards. That way, the seat height is even higher, and you avoid bending knees and ankles if sitting cross-legged is less pleasant for you.
A round meditation cushion, a crescent shaped cushion or a meditation bench?
Crescent shaped cushions are usually slightly lower than round meditation cushions. Here too, if a cross-legged seat is comfortable for you, you can opt for this lower cushion, but otherwise a somewhat higher (round) cushion is probably better suited.
The advantage of a crescent shaped cushion is that it gives more support to the thighs, and a little more tilt to the pelvis.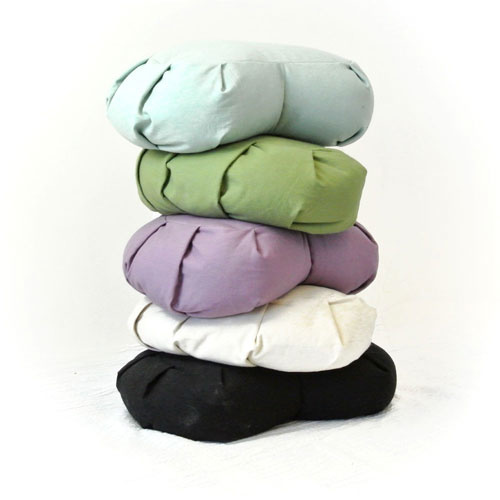 Another option is of course a meditation bench. On a bench you always sit with your knees forward and your feet backwards. The height ensures that there is some space so that your legs do not get pinched or sleep, and the seat surface supports a slight tilt of your pelvis so you can sit longer with a straight back.
A meditation bench, unlike a meditation cushion, is not adjustable in height. So if you are shorter than 1.65 or longer than 1.80 meters then a round meditation cushion on its side is probably the better option for you.
As described above, you could use a round meditation cushion on its side. You then sit with both knees forward and the feet flat backwards, and the pillow on its side turned between your legs. (This posture is similar to the Japanese seiza posture for Zen meditation).
A meditation mat, do I need one?
The zabutons from Love Generation are thick cotton meditation mats made in the way of the Zen tradition: the filling is made of layers of raw cotton, just like Japanese futon mats, held together by an unbleached cotton inner cover. The outer cover is again made of indestructible cotton canvas, with a wide zipper which makes the outer cover easy to detach, for example. to wash out.
The great advantage of a meditation mat is that they offer a soft yet solid underlay for your knees and ankles, and at the same time provide insulation so that any cold never penetrates the floor. You can use the mat 'loose' or together with a meditation cushion or bench.
Meditation mats are also often used as extra support in yin yoga and restorative yoga. For example, as knee support in the swan position, or folded in half as a yoga bolster (the free lanyard supplied keeps the 'bolster' in perfect shape).
Ok, I have set up a nice meditation place? And now?
Meditating is simple, but not easy. You may choose to take a course, but you can also work (at home) with books and recorded guided meditations on CD.
There are different styles of meditation, and there are different ways in which you can focus your practice in such a way that you remain motivated and take a little time every day to turn your attention inside. For this too, there are plenty of products to be found in our webshop.