Mindfulness exercises: Three exercises for every moment of the day!
Mindfulness exercises: Three exercises for every moment of the day
Mindfulness exercises: how do you ensure that you really go through life mindfully? We take you through a number of exercises for every moment of the day. Whether you are in the office, driving in the car, or at home quietly ... you can practice mindfulness everywhere.
Do you first want to know more about mindfulness and how this benefits you? We wrote about this extensively in the article "Mindfulness, what is it and what are the benefits?".

Mindfulness exercise 1: the body scan
The body scan is a well-known mindfulness exercise, where you focus on feeling your own body. You let your attention flow through your entire body, to feel what you feel. This makes you aware of your body and what's going on. Here you try not to pass judgment. Let's give it a try:
Lie on your yoga mat or rug in the living room
The surface must not be too soft, you must be able to feel your body well
Close your eyes
You now go through your body with your attention per body part. You can do this by mentioning and seeing each body part in your mind, you can visualize a golden strand through your body or you can just feel it. This is entirely up to you.
You start with your right foot, right leg, left foot, left leg, hips, abdomen, chest, neck, right shoulder, right arm, right hand and fingers and then the left side. Feel your tongue in your mouth (make sure it lies loosely in your mouth), your lips, nose, eyes, forehead and the top and back of your head.
Sometimes you feel nothing at all during a body scan and sometimes you feel some or even all body parts tingling. There is no right or wrong, because it is about your body and your focus. When you feel tension in a body part, notice this. After the body scan you can give extra attention to this tension by breathing here and visualizing that this part relaxes. You do the body scan as a mindfulness exercise when you want to take time for yourself and have a quiet space to do this. Do this for around 20 minutes.

Mindfulness exercise 2: breathing in the office
At work we often forget to be mindful. Even when you are an experienced mindfulness practitioner, it is difficult to be mindful under pressure and stress. But do realize the enormous benefits when you manage to be mindful at work (more concentration, less stress, more creative, better decisions etc). A good mindfulness exercise for the office:
Set your alarm every two hours so that you are reminded to breathe consciously
Just stay behind your desk or wherever you are
Close your eyes and breathe deeply through your belly ten times and focus on your breathing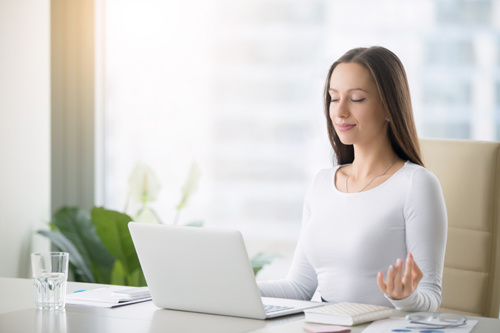 Mindfulness exercise 3: focus on your environment
You sit in the car, on your bike, in the tram or on the train. You don't really have the ability to close your eyes and isolate yourself. Can you not do any exercises at that time? Yes you can, because moments like this are all the more important to be in the present. You do this by focusing on the sounds and movements around you. What do you hear, what do you see, what do you feel? Are you going to stray? Notice this and come back to the area around you. Because of this you really make sure you are here and now, so mindful.

Mindfulness is training
Do not expect that you can be completely present in one go during these exercises. You will certainly stray and think. But realize this and come back every time. Realizing this and returning to the now is mindfulness. Whether this happens 10 times or 100 times, there is no failure. You will notice that the more often you do these exercises, the easier it will be to live in the now. And even then you will have days when things are going well and days when you constantly have to get back from your thoughts and that is completely okay.