Sleep better by meditating: these three tips will help you for sure
Sleeping better by meditating is really possible. Meditation helps you to control your own thoughts. It helps you to focus on the here and now. And meditation also helps with the relaxation of your body by consciously creating rest in your head.
Meditation and sleeping, it is a wonderful combination. Do you also want to sleep better and use meditation for this? These tips will help you know for sure.

1. Meditate before bed, make it a routine
To have a good night's sleep by meditating, it is important to have a routine for yourself. A routine that does not take too much effort, that you look forward to and that ensures that you do this every (or almost every) evening. This routine helps your brain to understand that it's time to sleep. That it's time to let go of all the tension and thoughts of that day. You create recognition for your brain and you give yourself the opportunity to sleep wonderfully.

A routine could be:
Brushing your teeth and preparing for bed
Shake the pillows and put your comforter properly
Light incense or switch on a diffuser with the same scent every night
Write five minutes in your journal: what are you grateful for that day?
Lie down and start with a guided body scan
Ten minutes of lying meditating with a sleep meditation in the background

2. Begin your meditation with a guided body scan
By starting your meditation with a body scan every night, you give yourself and your body the opportunity to feel what you feel. Are you tense in certain places? Are you calm? How did you experience your day? Do you have many or few thoughts?

A body scan gives you the space to be and feel what you just feel. Once you have done this, you will begin your meditation much more calmly. You already know how you feel, so you don't have to think about this during meditation. You already know and it can be there. Now it's time to focus on your breathing, on sleep meditation and on letting go of the day. It is time to sleep wonderfully.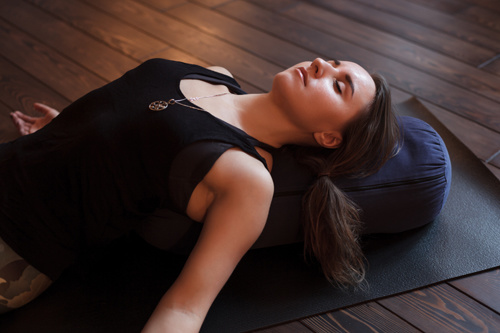 3. Start the day with a meditation to sleep better
Start your day meditating. Huh? What does this have to do with sleeping? By structurally meditating during the day, you learn:
To keep your thoughts under control
You learn to focus on the here and now
To focus on your breathing
And to start your day calmly
It is precisely these aspects that will help you to fall asleep faster in the evening and to sleep better. That is why meditation during the day has a lot to do with sleeping well. In addition, it is also very good for yourself during the day. By structurally meditating you learn to deal with pressure in a different way, you learn how to keep yourself calm and how to stay close to yourself despite all the hectic pace. By experiencing this during the day, you also sleep better in the evening. Win-win situation ;-)

Sleep better through meditation
Do you allow yourself a good night's sleep and being able to cope better with all the hectic during the day? We hope so of course and we know for sure that meditation will help you with this. Are you still looking for a nice meditation cushion to start the day with? You can buy the most beautiful meditation cushions here at Yogashop.