Starting with Meditation? This is Meditating for Beginners
Immediately a spoiler; you are not going to turn off your thoughts as soon as you start meditating. You do think anyway. You can learn to observe those thoughts. Sometimes those thoughts fade into the background. As it becomes quieter within you, you will hear the voice of your heart better.
To immediately clear up another misunderstanding; there is no wrong way to meditate, you can't do it wrong. There is no such thing as "I can't meditate". More on this later!
What exactly is meditation?
Meditation is a form of spiritual practice. The word comes from the Latin meditatio, meaning "to reflect," although meditation is more of an exercise in silence, in simply being. When you meditate, you become the spectator of everything you experience such as your thoughts, emotions or your breathing.
But some will describe meditation as connecting with your soul, with your heart and intuition. People use it for all kinds of purposes: for health reasons, body relaxation, mental relaxation, relaxation before sleeping, getting to know yourself better, dealing with emotions or learning to focus your attention.

What is your reason for meditating?
You may see reasons above why meditation can be important to you, they are all equally important. However, when you start meditating for some reason, you will probably find that the influence of your meditation practice is not just limited to that one area.
Slowly you become more and more aware of the many possibilities that meditation offers and meditation is no longer just a skill, but becomes a journey of discovery with, for and within yourself.
It is an individual examination. What works for one person at a certain moment, in a certain situation, for a specific point of attention, does not have to work for another. It's important to be your own explorer, just like Buddha was (oh, why not immediately compare yourself to Buddha).

My meditation journey
Coaching
For me, that journey of discovery has been going on for almost twenty years. What a road I have traveled! I started with guided meditations from Meditation Oasis. I can still hear the reassuring voice of Mary Maddux who let me more and more 'be' with what was presenting itself in me at that moment. There was nothing to fix, nothing to change. The guidance brought me back to the moment every time. Thus the train of thoughts could not run away with me, its soft voice led me to what was in the now.
Follow your breath
After doing guided meditations for a while, there was a desire for more autonomy, I wanted to do it myself, even if there was no iPod available. What is always available? Your breathing. And it is always in the here and now.
I focused my attention on the sensations of my breathing, how the air brushed my nostrils, made my belly bulge. It's a concentration meditation, whenever I noticed my attention wandering, I brought it back to my breath.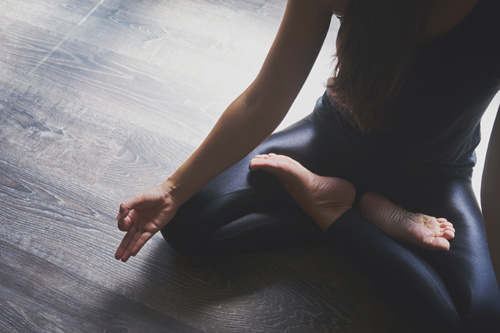 What types of meditation are there?
Before I describe my meditation path further, I briefly describe the different forms of meditation. If a form appeals to you, you can search for further information about it yourself.
First of all, the concentration, object-oriented, meditation, as I describe above. The 'object' can be your breath, but also a sound or an image (such as candle meditation). Even yoga is a form of this, because you use your body as an object of concentration.


Transcendental meditation, here too you use an 'object', namely a mantra, a sentence that you pronounce (in your mind). The difference with the meditation above is that you do not use your concentration for that. After a while the mind turns inward, you get into a kind of trance and you transcend all thought activities.


Object-free, non-dual meditation, an example of which is Zen meditation; It's a bit difficult to explain because words can't describe it. Zen comes down to experiencing the moment without intention. Be normal. There is nothing you have to do, have to accomplish. You experience that you are part of everything that is. Everything melts into one.


Guided meditation and visualization; as I mentioned a suitable form to start with because a voice guides you and gives you instructions. You observe for yourself what is happening. Sometimes a guided meditation takes the form of a visualization. You are asked to go to a place in your mind and imagine everything. The fun part is, your brain doesn't distinguish between what you visualize and what you actually see.


Metta meditation; here you focus on the feeling of compassion, you cultivate that compassion by – in your mind – uttering loving sentences and experiencing peaceful feelings.


Vipassana; this is the oriental formal variant of mindfulness. Here you do not focus your attention on one point, but on all the changes that take place in your body and mind. This makes you aware of how changeable reality is. And experience how your physical sensations affect your spiritual sensations.


Dynamic meditation; Osho (or the bhagwan) in particular is known for his dynamic meditations (shaking, laughing loudly, whirling, chaotic breathing), which he found more suitable for the restless Western mind. Also 5-rhythm meditation, or African or shamanic dances with the help of drums, where people go into a trance by the rhythm, are examples of dynamic meditations. Many mental blockages are stored in our body and can lead to a discharge through this form of meditation.

Concentration versus being-with-what-is
After being so 'concentrated' in my meditations for a while (which went very well), I noticed that I was missing something. It felt rigid, motionless, as if I was denying something in me. I started experimenting with vipassana. By the way, I didn't know it was called that, I hadn't researched it. I let my mind, my attention, wander to whatever presented itself in that moment, but I didn't hold on to anything.
It was an exercise in being with what is. So perceiving everything, sometimes naming it, and at the same time stand aloof from it, without hooking myself into it, without me and my. This form felt a lot more fluid, freer and gave me a lot of insight into my reactions and impulses. Sometimes I experienced a sense of spaciousness that stretched far beyond my own mind, a glimpse of what is possible.

I can't meditate
In conversations with people I have often heard this: I cannot meditate. I'm too restless, I can't sit still, it's racing in my head, etc. Those who express this have a fixed image of meditation, which is that when you meditate, you are calm, focused, completely zen and that you feel one with everything.
To immediately help you out of that dream: that peace, focus, zen, and sense of unity is a possible consequence of (a lot of) meditating. It is not the meditation itself. Meditating is being with all that is. With the restlessness, those thought loops, that mobile body. But you're okay with it. Instead of seeking distraction (in work, TV, food, drink, social contacts), you experience everything that happens inside you.

Hold and push away
You will also experience that every day is different. And then you have an experience of peace, or of unity, then you really want to hold on to that, but that is not possible either! I'm sitting here grinning at my laptop because it's funny how we humans like to hold onto desired experiences and try to avoid or push away the unwanted experiences in all sorts of ways.
Bright spot: meditation helps you here too. You get an ever-deepening realization that everything is changeable and nothing can be controlled. Relax, nothing is under control.

Release tension
During workshops I became acquainted with the Osho meditations. I occasionally did the kundalini meditation at home, shaking uncontrollably for half an hour, allowing emotions to flow and then sitting down my mind was so much calmer. For me the dynamic meditations are an odd one out.
They are more combinations of emotional release tools and meditation. If you have a lot of tension in you, it can work very well.

Cultivating Compassion
My last turn on the meditation path is the metta meditation. For me this was motivated by wanting to deal with my emotional pain in a healthier way during a difficult period in my life. Metta means loving kindness. It softens and opens the heart and helps me to replace patterns of anger and fear with acceptance and kindness.
By awakening warmth and love in myself, I can help myself through that difficult time, be a kind of best friend to myself.

Practical; from pillows to altar
I can tell you now that to start meditating you must have a quiet place, a meditation cushion, an altar and a clear intention. Actually, these are all useful things, but not necessary. For years I sat on the couch in our small apartment in the morning, where my kids would sit next to me with their iPads after waking up. Not ideal, but it was part of the practice.
If you set yourself too many conditions; there must be no one in the house, I must have eaten first, only when that important meeting is over, I must have a meditation cushion first, then these conditions will probably only make you postpone your practice. Just sit down!
Motivation and discipline
All that matters is your motivation and discipline. And you shouldn't make this too big. Agree with yourself that you will sit down, for example every morning after waking up. Even if it's only five minutes. Even if you are terribly busy or your house is a big mess. You don't have to create ideal conditions to meditate. It's something you can do anywhere, anytime.
Meditation bench or cushion
If you still want a nice cushion or meditation bench, you can find the most beautiful meditation cushions here. The advantage of a pillow or bench is that your back stays straight more easily while meditating. This ensures an active attitude, so that you are and remain more aware.
A meditation bench is nice if you can't sit cross-legged very well, because your legs go under it. A meditation mat from Love Generation is fine for your knees, which are filled with thick layers of raw cotton with a sturdy outer cover of canvas.
And of course, such a cushion - in a color or pattern that you like - looks good in your room and invites you to actually sit down!

Last tip
Try – like me – various forms of meditation. Then you have different inputs and comparison material and you do not necessarily attach yourself to a technique or tradition. This way you learn to feel which aspects have an effect, so that you can become your own master.
It is an individual journey of discovery that can bring you a lot. For me that was less living on autopilot or from my unprocessed emotions, being more present in the moment and getting closer to my 'knowing'. I am curious what meditation brings you.