Yoga Nidra | Are you ready for Sleep Yoga?
Yoga Nidra, is a yoga style that is gaining in popularity enormously. Are you looking for a yoga style as a workout and do you want to work on your flexibility? Than Yoga Nidra is not for you.
Do you sleep badly or do you want to improve your sleep quality, do you want to live more in the now, enjoy the small things, have more rest during the day and find confidence in yourself? Welcome to Yoga Nidra.
What is Yoga Nidra?
What is Yoga Nidra? The literal translation of this yoga style is sleep yoga. During this lesson you will lie on your back and you will be guided to the state between waking and sleeping. A state that you normally only enter during your deep sleep. When you reach this state during Yoga Nidra, you are in a relaxation that is equivalent to four hours of deep sleep.
This style has been compared to Savasana, the relaxation pose you probably know from your own yoga class. Almost every yoga class ends with this, in order to be able to properly process all impressions and feelings. The big similarity between Nidra and the Savasana is that they are both practiced on your back.
So yes, Nidra certainly has to do with (the benefits of) sleep, but the starting point is not to go for an hour of power napping.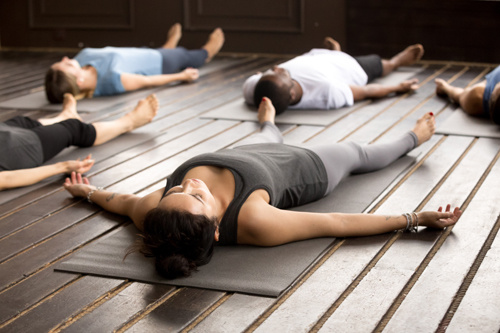 How does Sleep Yoga work?
With sleep yoga you lie on your back for the duration of the lesson, preferably under a blanket and you listen to the teacher who guides you through his or her voice. It resembles a guided meditation where visualization is central.
The purpose of sleep yoga is to bring you into deep relaxation, maybe even a trance. Through this deep relaxation you enter a dreamless and deep sleep, while you keep the connection with your consciousness and your environment.
This state of relaxation creates certain brain waves (theta and delta) that ensure that you process memories and experiences. This state also ensures:
Decrease in muscle tone
Stress Reduction
Lower blood pressure
Lower heart rate
All these points, as you probably understand, have a healing effect on both your body and your mind. There is also a good chance that you will sleep better, deal better with stress during the day, be more relaxed and have a more positive outlook on life.
Online Yoga Nidra on Youtube
If you search for Yoga Nidra on YouTube, you will find a whole range of free online exercises. It is logical that this type of yoga is popular on this video channel, because this is a form of yoga that you can practice very nicely at home, in your own room.
When choosing an online Nidra exercise, pay particular attention to whether you like the voice and background music. Nothing is more annoying than finding out halfway through that the guidance gets on your nerves.
It is also good to pay attention to the length of the exercise. Can you go about your business undisturbed for that long? Fine.
Why is Sleep Yoga so popular?
We live in a time in which we have to do a lot, expect a lot from others and from ourselves, we have a lot of ambitions, the work and social pressure is high and so on.
We constantly compare ourselves with others (consciously or unconsciously) and we find it difficult to do nothing or relax because of the many external stimuli. That is also the advantage of mindfulness, you learn to concentrate better and exclude unwanted stimuli. That's relaxing!
Relaxing
Despite the fact that we do this to ourselves and influence the lives we lead, it turns out not to be that easy. The temptations are too great. Still, we like to relax and have a moment during the day that is all to ourselves.
No phone, a moment where you don't have to perform, don't have to work hard and don't have to worry about how it looks.
Do nothing for a while
That is why Yoga Nidra is so popular right now.
You can find all these points here:
You only need to lie on your back under a blanket
You are guided to maintain your focus
And this focus is completely on yourself
Another reason why Yoga Nidra is now becoming so popular is because it is an "easy form" of meditation. We specifically put it in parentheses, because it doesn't mean that the benefits of Nidra are less than, say, sitting meditation.
On the contrary, several studies show that the effects of Nidra are the same as sitting meditation. But because this form is lying, you are guided and it falls under the heading of yoga, it is for many a more accessible and less spiritual form of meditation.
3 Benefits of Yoga Nidra
We have already mentioned many benefits of Yoga Nidra in this article, but there are more. That is why we once again list the three biggest advantages for you.
Sleep better
Because you are consciously engaged in relaxation during this yoga style, you fall asleep faster in the evening and your sleep quality is better. There are also a number of Nidra sessions that can be followed online, for example via House of Deeprelax, which have been specially developed for a good night's sleep. You do this session in bed, before going to sleep. From experience we can say that we not only fall asleep faster, but also wake up better rested.
Less stress
During Nidra you learn to relax. To keep out all external stimuli and to focus on yourself. Because you are consciously involved in this, it also has a great advantage on your daily life. In stressful situations you are able to return to relaxation more quickly. To absorb moments of stress and not to be influenced too much by this. And if you are super stressed, your experience with Nidra also gives you the tools to calm down again.
More imagination and creativity
Because you are guided through a voice and often a visualization during Yoga Nidra, you open yourself up to imagine. To let you be carried away with the voice and to give an image of it from your own imagination. As a result, you learn to listen more to yourself, you learn more about your own imagination and you also stimulate your creativity. And just after a yoga nidra session, positive affirmations are much stronger.
What do you need for Yoga Nidra?
But what do you need for Yoga Nidra? Not that much actually.
Yoga mat. If you take a class in a yoga studio, it is nice to lie on an extra thick yoga mat to support your spine.
Bolsters or pillows. You can also put a bolster under your knees and a pillow or blanket under the head. With this you support your body optimally, for maximum physical relaxation.
Blanket. Just a lovely yoga blanket that you put over you for warmth and you are ready!