Buying a meditation bench
Meditating on a meditation bench, have you ever thought of this?
More and more people are meditating. They take this moment to be focused inward and not to be distracted by all external stimuli. Or at least, we try not to be distracted. The latter can sometimes be tricky, but believe us: practice makes perfect.
The trick is to give yourself the time and space to discover what feels right to you. The place where you meditate plays an important role, and the time of day. But the most important thing is your sitting position. If that is exactly right you will find that you will be able to sit effortlessly for a longer time.
Because you do not only meditate in the difficult lotus position on the floor. You can also sit in a different way, you can lie, stand and even meditate while writing or walking. The most important thing is that it feels good for you and you can fully focus on meditation.
For the lotus position and cross-legged seat, a meditation cushion is a good tool. But not everyone finds sitting cross-legged the nicest posture. That is possible if you are not that limber, but more often it is simply the way your hip joints are shaped.

The Meditation bench and the Seiza posture
That is why there is another nice tool for meditation, one that is less known among yogis: the meditation bench!
Do you prefer to meditate while sitting, but not in the cross-legged position (and certainly not in the lotus position), but with your knees forward and your feet behind? Then this meditation bench is a perfect solution.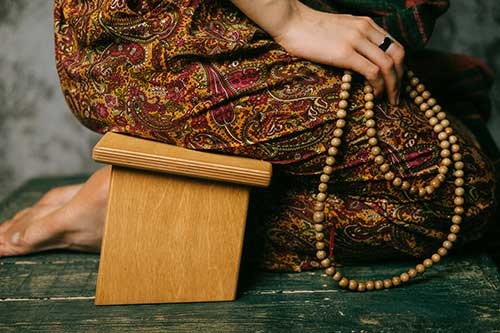 Sitting in this way is called "Seiza" and this is originally a meditation posture from the Japanese Zen tradition. The meditation bench allows you to sit a little higher off the floor, with your legs under the bench. This relieves your knees, your legs go to sleep less quickly and you do not get cold that easily.
Maybe you already noticed the picture above; The seat of a meditation bench is slightly lower at the front than at the back. This ensures that your pelvis is tilted slightly and that your back automatically acquires a natural straight posture. This allows the muscles in your back to relax and you can easily sit upright for a long time without getting tired or distracted by all kinds of aches and pains.

Is a meditation bench suitable for everyone?
Unfortunately, this is something you should pay attention to. A meditation bench is designed for people between 1.60 and 1.75 meters. If you are taller or shorter, you will sit less steady, because your lower legs do not touch the ground sufficiently, or because your legs do not easily fit under the bench.
If your height is only a few centimeters off, we do not expect this to matter much.
But are you really much longer or shorter? And do you prefer to meditate in the Seiza position? Then try this posture by putting a crescent or round meditation cushion on its side. That way your legs also fit sideways to the back.