Why would you Buy a Pilates Mat?
To train your abs, back muscles and buttocks, you do a lot of ground exercises in Pilates.If you choose a pilates mat that is too thin, you can suffer from your back and joints. That is why it is important to choose a mat for Pilates that is suitable for your exercises and offers the right surface.
What is the difference between a Pilates mat, a Yoga mat and a Fitness mat?
The purpose of these mats is exactly the same: to provide a good anti-slip surface for your practice.The sizes and materials of the mats for these styles do not differ that much either.Yet with every style there are just a few other details that you should pay extra attention to. These will guide you in your choice of the right  mat.
With Pilates you do a lot of exercises on the floor, so it is important that you have enough cushioning for your spine and your joints.Good insulation is also very important.That is why a Pilates mat is at least 6 millimeters thick and made of a soft and supple material.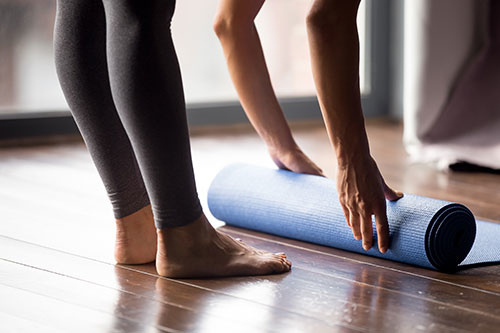 With Yoga you do more standing postures, and then balance comes into the picture.You'll want to stay grounded and not wobble too much during, for example, the tree posture.Especially with the active yoga styles we therefore recommend a somewhat thinner mat. Or a mat made of harder material such as the Premium Yoga mat.For quiet yoga forms where, just like Pilates, a lot of work is done on the floor, (e.g. as Yin Yoga) a soft, thicker mat is better.
Fitness is often practiced with your shoes on.The exercises are often faster and extra active, and you may also practice outside more often.Your shoes will provide extra grip on the mat, but a fitness mat must be extra durable.A sturdy material that can be cleaned well is therefore the leading choice when buying a sports or fitness mat.
Which size Pilates mat should I choose?
A Pilates mat is usually 183 x 61 cm wide, but if you are a bit taller yourself, an extra long pilates mat can also offer a solution.If you opt for an extra long mat of 200 cm, everything stays neatly 'inboard'.
Do you need anything more for Pilates?
If you already have a mat, but especially if you practice in a studio that already has pilates mats, take a look at our special super absorbent towels by Manduka and Love Generation.These towels not only form a hygienic intermediate layer (they fit exactly onto your Pilates mat) but due to the microfiber material they also provide extra grip for moist hands and feet.These towels are lightweight and fold up small, and fit easily in your bag.In addition, they are washable at 60 degrees.