Looking for yoga mat, and need some help?
Whether you are going to buy your first yoga mat or your third, choosing your new mat is always a fun journey.Where are you in your yoga practice?Which thickness suits your style and body?The color, the material, there are so many things you can take into account.Could you use a little help?Then read this post that you should pay attention to when choosing your yoga mat.
Want to buy your own yoga mat?
In the past, your yoga studio probably had mats you could use.These days, most studios require you to bring your own materials.Pretty good idea, actually.There are 3 good reasons to buy your own yoga mat.
Hygiene.

Your own yoga mat is really a lot more hygienic.

Of course you can clean the mat of the studio with a spray, but it is still a lot cooler not to lie on someone else's perspiration.

Practicing at home.

You will notice that after ordering a yoga mat you will get started faster at home.

Many people use a rolled up yoga mat as an alternative to a meditation mat.

Motivation.

It is important to buy a yoga mat that suits you.

Not only in terms of material and size, but also in terms of design.

When you feel comfortable on your own mat, you get into the right flow faster.
When you are actively engaged in yoga, your own mat is really necessary.Now you have taken the step and want to order one online.Then you will discover that there are quite a few different yoga mats.Very much.Choosing a yoga mat can quickly become quite 'one thing';they are available in all kinds of different thicknesses, lengths, materials, brands and last but not least: colours.
While ordering a yoga mat online, what should you pay attention to?
Below you will find an explanation of everything you need to know when buying a yoga mat.This will help you buy the perfect yoga mat that best suits you, your yoga style and your wishes.
1. The material of your yoga mat
PVC Yoga Mat
You will see on our site that most yoga mats are made of PVC, these are also called sticky yoga mats.A PVC yoga mat is sturdy, has a good grip, so that you do not slip in the most challenging yoga posture, and it stays well on the floor.This type of yoga mat has a long lifespan and some mats are virtually indestructible.In addition, a PVC yoga mat is suitable for all yoga styles.
Another advantage of this mat: you can simply wash it in the washing machine (up to 60 degrees)!
You do have to work in PVC yoga mats.This means that your yoga mat gets more grip and becomes more and more slippery with use.Do you want to speed up this process?Then read our blog How to fix a slippery yoga mat.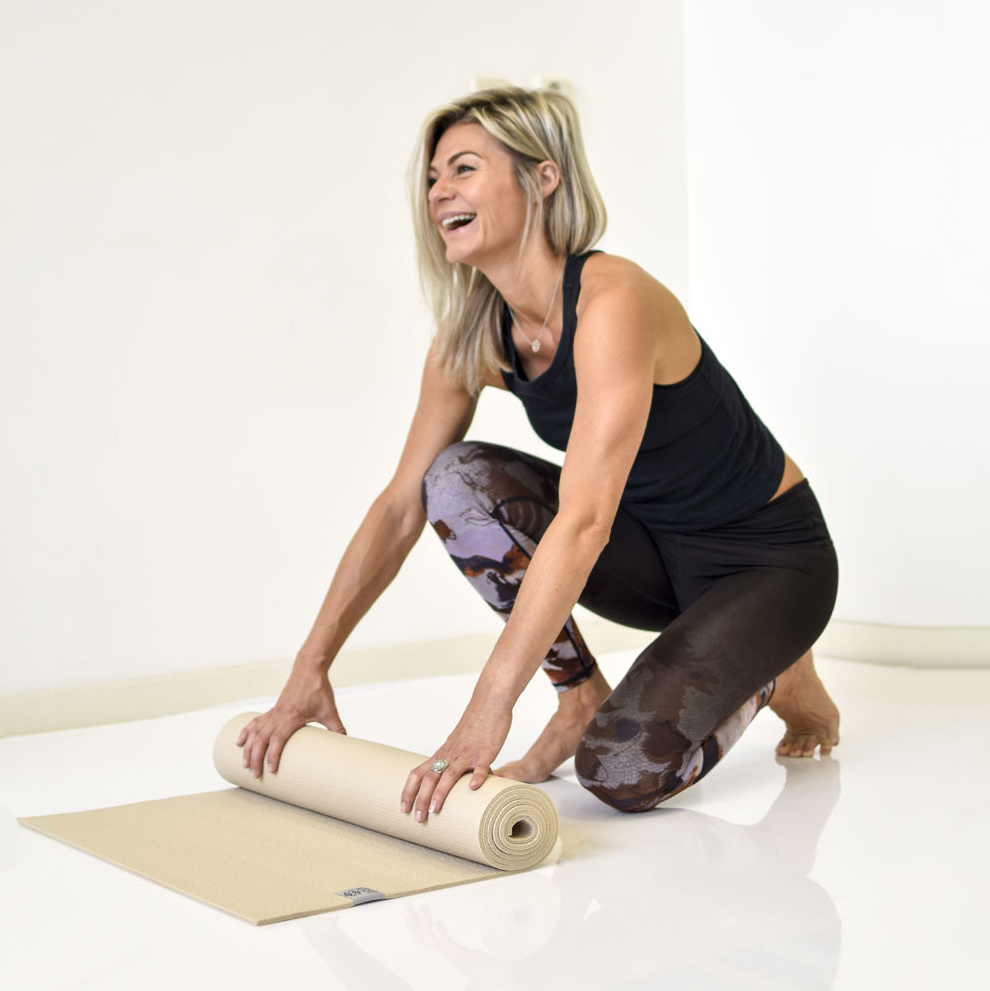 TPE Eco Yoga mat
Go green!If you prefer an environmentally friendly and sustainable yoga mat, a TPE yoga mat may be more your thing.
TPE is a 100% biodegradable plastic with eco quality mark certification.A TPE Yoga mat has a remarkably good grip due to the open cell structure, even if your hands or feet are slightly damp due to perspiration.This material is softer than PVC, which offers more comfort in sitting and lying positions.
It is a very pleasant yoga mat for yoga styles such as Yin Yoga, Hatha Yoga, Restorative and Kundalini.
(TIP) Many yogis buy a matching meditation cushion with their new mat.This way all the colors in your rehearsal space are aligned.
But because TPE 'gives' more, balancing positions become a bit more of a challenge.In addition, the softness ensures a shorter lifespan.That is why we usually do not recommend eco yoga mats for very active forms of Yoga such as Ashtanga Yoga, Power Yoga, Vinyasa Flow and Hot Yoga.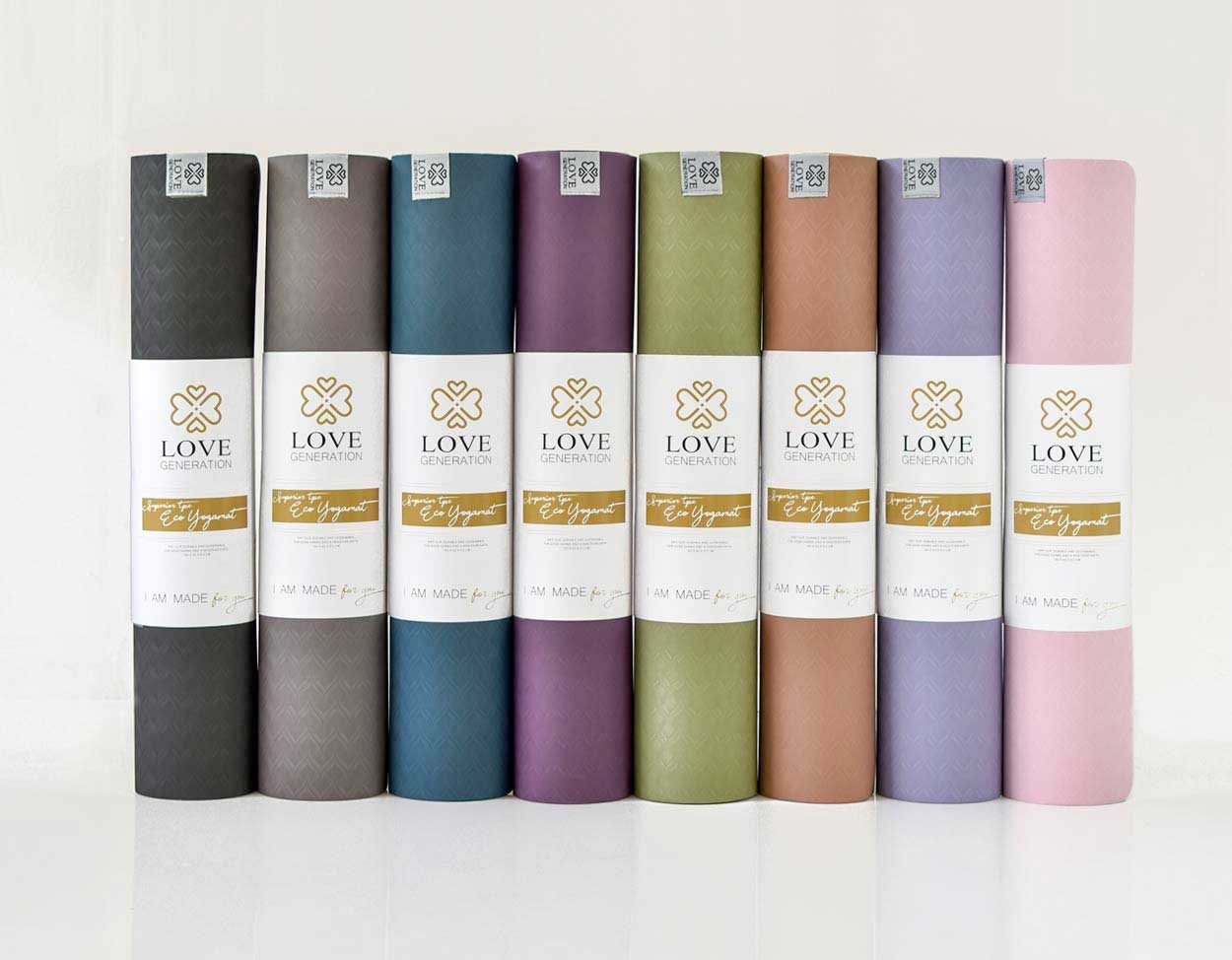 Natural Rubber Eco Yoga Mat
The Eco yoga mat is also made for the environmentally conscious yogi.Natural rubber is often processed with another material such as a small layer of cotton, making them extra durable.The eko yoga mat has a very good grip and you can keep it even with damp (sweaty) hands and feet.
Eko Yoga mats made of rubber  have a longer lifespan than TPE, but wear out faster than PVC, simply because they are biodegradable.So sustainable for the environment is not always sustainable in use.Because rubber mats are a bit harder and firmer, these eco yoga mats are also very suitable for active and intensive yoga forms such as Ashtanga yoga.
N.B. Natural rubber has a 'specific' smell that never completely goes away, and some people are allergic to rubber.Maybe that doesn't matter to you at all, but they are details that we would like to mention here.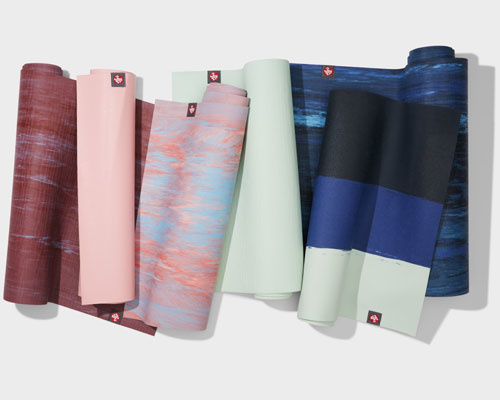 2. Thickness and dimensions of your yoga mat
The most common size of a yoga mat is 1.83 m long and 61 cm wide. Don't worry, even the taller Yogis among us don't have to put their feet 'outside the board' during Savasana, we also have extra long yoga mats of 2 meters and 2.16 meters.
Yoga mats come in thicknesses ranging from 1.5 mm (these are often travel yoga mats) to 6 mm. The most commonly used Yoga mats are 4 mm and 6 mm thick.
Which thickness should you choose? That is very personal.
4 mm mats are more stable, more suitable for standing and balance postures.

6 mm mats give just a little more and are very nice for sitting and lying postures or on a cold floor.

Yoga mats thicker than 6mm are also on the market, but we do not recommend these, because with these thicknesses you lose too much stability with the standing balance postures.
Again: this is very personal, so think about what will work best for you and especially what is best for your body.
3. Yoga mat with print
Because you are looking for YOUR yoga mat and want to stand on it very regularly, the eye also wants something. Yoga mats come in many colors, color combinations and some yoga mats are printed with a beautiful design! When choosing a color and/or print, check with yourself what makes you happy and/or relaxed.
Somewhere, very yoga, it shouldn't matter, but we - The Girls of Yogashop.nl - know that a REALLY nice mat contributes greatly to the motivation to practice a lot on it! :-)
Are you already out? If you want to delve even further, you can read more in our blog 'How do I choose the best yoga mat'. Here we go deeper into the properties of the different materials.