How do you choose the right yoga mat?
You have been doing Yoga for a while now and you are completely ready to buy your own Yoga mat, simply because this is more hygienic than a mat from your Yoga studio and you may want to build your own Yoga practice at home. So you start looking for your mat!
Once you have arrived at our website, you will discover that there are many different Yoga mats. A lot of different Yoga mats. Then choosing seems somewhat of a puzzle. Yoga mats come in different thicknesses, lengths, materials and last but not least: colors.
What to choose? Below you will find an explanation about the materials, thicknesses and dimensions. This will help you find the Yoga mat that suits you, your Yoga style and your wishes best.
The material of your yoga mat
PVC yoga mat
You'll find that most Yoga mats are made of PVC, also known as Sticky Yoga Mats. These mats have a good grip that will prevent you slipping in the most challenging Yoga postures, and will stick onto place on any floor. A PVC Yoga mat has a long lifespan and some mats are virtually wear-resistant. A Yoga mat made of PVC is suitable for all Yoga styles. Another advantage of this mat: you can simply wash it in the washing machine (up to 60 degrees)!
The surface texture of PVC mats improves with use. The best way to "break in" your new yogamat is to use it on a daily basis, but if you want to speed up this process, read our blog How to break in a new yoga mat.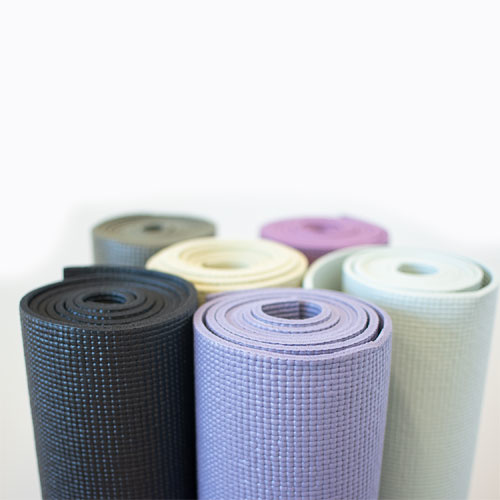 TPE Eco Yoga Mat
Go green! If you prefer an environmentally friendly(er) Yoga mat, then perhaps a TPE mat is more your thing. A TPE Yoga mat is made of a 100% biodegradable material, free from harmful substances and hypoallergenic. Because of the open cell-structure this Eco Yoga mat has great grip, also when your hands and feet are slightly moist. TPE material is softer than PVC, which offers more comfort when sitting and lying down, a very pleasant Yoga mat for Yoga styles like Yin Yoga, Hatha Yoga, Restorative and and Kundalini.
However, because of its softness and biodegradability these mats will have a somewhat shorter lifespan when used for very active forms of Yoga such as Ashtanga Yoga, Power Yoga, Vinyasa Flow and Hot Yoga.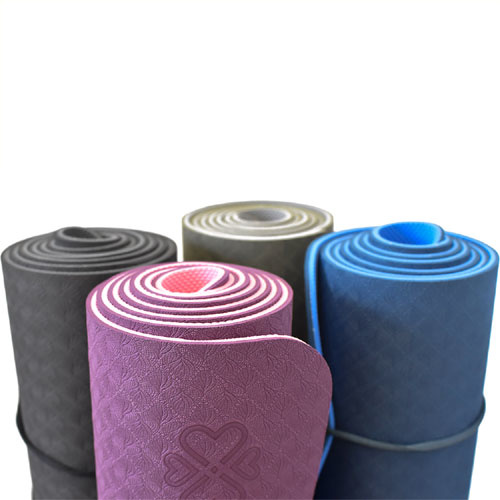 Natural rubber Eko Yoga mat
This Eko Yoga mat is also made for the environmentally conscious Yogi. The natural rubber is often strenghtened with a different material such as cotton or jute. These Yoga mats also have a very good grip  even with moist (sweaty) hands and feet. Natural rubber Yoga mats have a somewhat longer lifespan than TPE, because they are denser and less soft. But because of their biodegradablility they will wear slightly faster than PVC yogamats.  Sustainable for the environment is not always sustainable in use.
N.B. Natural rubber has a "typical" odor that never goes away completely. Keep this in mind.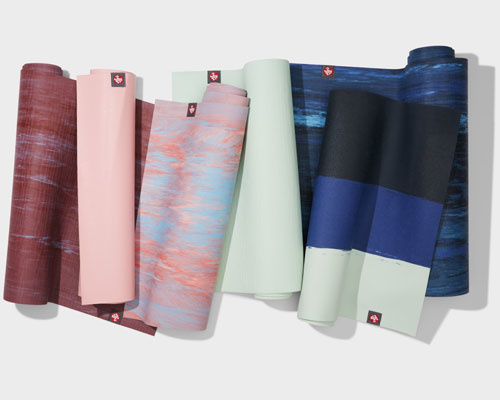 Thickness and dimensions
The most common dimensions of a Yoga mat are 1.83 m long and 61 cm wide. No worries  for the taller Yogis among us: no need to place your feet 'outboard during Savasana, we also have Yoga mats in lengths of 2m and 2.16m.
Yoga mats come in thicknesses ranging from 1,5 mm (these are often travel yoga mats) to 6 mm. The most commonly used Yoga mats are 4 mm and 6 mm thick. Which thickness should you choose? That is very personal. For example, 4 mm mats are more stable with standing and balance positions, while 6 mm mats are very nice with sitting and lying positions, and on cold floors. Again: this is very personal, so consider what works best for you and especially what works best for your body.
There are 7mm mats and thicker on the market but we don't reccomend those because they'll make balance harder during standing balance poses...
Beauty is in the eye of the beholder...
Because you are looking for YOUR Yoga mat and want to stand on it very regularly, you'll want it to be pretty . Yoga mats come in many colors, and some even have a print! When choosing a color and / or print, find out for yourself what makes you happy and / or relaxed. Somehow, for the most enlightened yogi it should not matter, but we - The Girls from Yogashop.nl - know that a real pretty mat boosts your motivation to practice :-)