I want to meditate, but what do I need for that?
Meditation can be done anywhere and in many ways: walking, lying down ( although the risk of falling asleep is a bit bigger when you lie down ;-) ), sitting on a chair, but the most common way in terms of meditation practice remains sitting on a meditation cushion or meditation bench. Which suits you best depends, among other things, on the style of meditation that you practice and your sitting posture.

What is the best sitting position for meditation?
There are different meditation poses in the different Eastern traditions.
You often see the yogis in India depicted in the lotus position (Padmasana). This position can be adjusted for the less flexible among us to a half lotus or cross-legged position (Sukhasana). And if that is still too intense, it can be solved with extra cushions to support the knees. A meditation cushion is usually used for this posture.
The Zen masters in Japan are usually in Seiza: a sitting position with the knees forward and the feet back. A kind of kneeling pose. For this you can sit on a meditation bench, with your legs under it, or on a round meditation cushion that is half tilted. The cushion is then between your legs with the knees in front and the feet behind. A round zen meditation cushion is also called zafu.
Lotus position / cross-legged or Seiza are both perfect for deep meditation. One posture is no better than the other. Sometimes you choose the lotus or the Seiza because of the meditation style that you practice, but it may be that one of the two postures also fits better with your physique. This is mainly due to the anatomy of your hips. With some the knees turn more easily outwards and with others easier inside. And of course it also depends on the flexibility of your pelvis, knees and ankles. And or you have injuries.

Meditation cushions
On a meditation cushion, also referred to as zafus, it is easier to sit for a long time - upright - because the cushion forms with your sitting posture and therefore provides a more pleasant sitting, so that you can focus your clarity of mind on your meditation.
The advantage of having your own meditation cushion is that you support your meditation not only physically but also mentally: when you sit on the same cushion every day, you create a habit and a kind of Pavlov reaction for both body and mind. Your body knows in no time "Yes, meditation cushion, now it's time for meditation." Silence, concentration and depth of your meditation then get going faster than when you meditate in a different way or with a different prop (= aid) every day.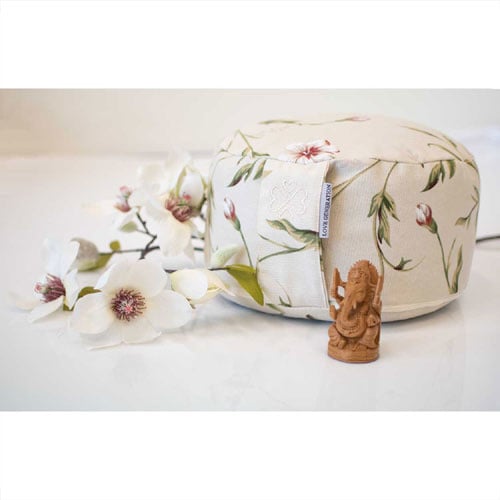 Meditation cushions come in different shapes, heights and sizes (and we're not even talking about colors, patterns, etc.), so how do you choose the right meditation cushion for you?
A good meditation cushion provides solid support and has the exact height for your body (s-length), is made of a durable material, and washable is also an advantage. Also a not too heavy, yet sturdy filling is very important. Not unimportant: choose a pillow that you like and fits in your meditation place. It will motivate you more and support you to meditate regularly.
The meditation cushions by Love Generation are only filled with organically grown buckwheat chaff. Buckwheat has hard husks that are dark brown in color and are full of seeds. The chaff is actually the residual product of the buckwheat harvest. This chaff is a very suitable filling material for meditation cushions. The shape and weight of the chaff ensures excellent firmness without it becoming too heavy and without losing its resilience.

Types of meditation cushions
Round Meditation Cushions
These are also called Rondos or Zafus. These are usually 15 to 17 cm high. The perfect height of a pillow is personal and body dependent. If you are sitting comfortably in a cross-legged position and / or lotus position, then a meditation cushion will quickly be too high. Fortunately, you can adjust the height by removing filling (buckwheat chaff) from the pillow. You get just as much out of it until the cushion has your ideal height. On these cushions you can sit cross-legged, lotus position and in Seiza (legs on either side of the cushion).
Crescent Cushions
As the name suggests, these cushions have the shape of a Half Moon. These are generally somewhat lower and wider than the round meditation cushions. Only suitable for cross-legged and lotus position and gives more support to the thighs and ensures a pleasant tilt of the pelvis.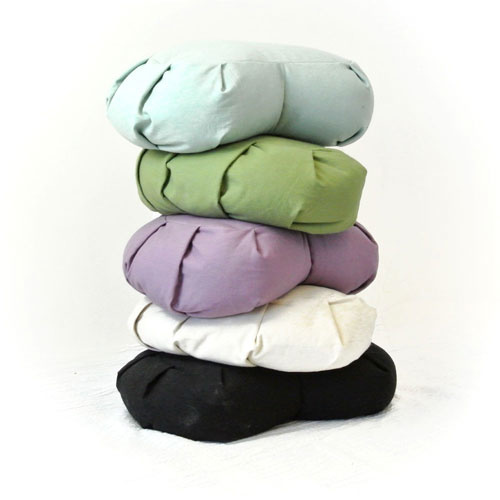 Meditation benches
These are usually made from sustainable wood (rubber wood / American Oak). Meditation benches provide a comfortable sitting position that relieves the knees and keeps the back straight. Benches are not height-adjustable, like cushions, and only suitable for people between 1.65 and 1.80 m. Meditation benches have 1 seating option and that is in Seiza (Japanese sitting position for Zen meditation).
Meditation Mats - Zabutons
Meditation mats, also called zabutons, are large (often) square cushions filled with kapok, foam rubber or cotton. The zabutons of Love Generation are filled with thick layers of raw cotton surrounded by a cotton inner cover made of unbleached cotton. The outer cover is made of canvas and is therefore very sturdy and durable, and also washable. The meditation mat can be used on its own for your meditation practice, but some find it more pleasant in combination with a meditation cushion or as a base for your meditation bench. This zabuton is also great with a Yin Yoga practice.

Relax!
The most important thing is that you sit comfortably during your meditation, that you feel no obstacles, irritation or pain in your body, that takes the upper hand and then your meditation is lost. Create a nice place for yourself to meditate, that also makes it easier for you. Besides being able to meditate in different ways - sitting, lying, walking - there are also different ways of meditating. There are enough books and CDs available that can guide you in this.