Buying a meditation cushion
If you have just started meditating, then you have probably noticed that a meditation cushion is practically indispensable as a solid foundation. Here we will gladly explain what you need to know about sitting posture, physique and the different meditation cushions so that you have everything in order to choose the best meditation cushion for you.

When do you need a meditation cushion?
You may have tried it: meditating on the flat floor, in an easy chair or lying on the floor. It certainly is possible, but you probably soon noticed that this is not ideal.
Sitting on the flat floor or in a lazy chair you quickly get a pain in your back, which can disturb your meditation.
Meditating while lying on the floor or on a yoga mat, on the other hand, is wonderful! For example, there are many Mindfulness exercises that you do while lying down, and of course Yoga Nidra meditations. The (big!) Danger, however, is that if you lie down you fall asleep very easily. And that is also calming, but just a little bit different.
The most practiced meditation posture is therefore simply sitting with a straight back. But if your hips, backbone, shoulders, neck or head are not properly aligned, then you will notice that you will soon start to feel all kinds of aches and pains. Almost everyone who is just starting to meditate knows the feeling ...
What should you look for when buying a meditation cushion?
A good meditation cushion or bench helps your pelvis to tilt slightly forward, so that your back stays upright much easier and with much less effort in a natural position.
Not only does this feel much more pleasant, it will also make it much easier to stay in place for a longer period of time. In this position, not only your back muscles but also the intervertebral discs in the spine are relieved. Moreover, with a straight back, the energy in the subtle nerves can flow more freely, and your lungs have plenty of room to breathe deeply and quietly. So a lot of benefits!
If you are still looking for the correct sitting position then remember that it is mainly about the slight forward tilt of your pelvis, and that your hip joints should always be slightly higher than your knees. How much higher differs per person. We will explain that further below.

The benefits of a good meditation cushion
A good meditation cushion ensures that your joints and back are relieved during meditation, that your spine effortlessly stays upright and aligned, and that this sitting position requires hardly any effort from your muscles. This makes you go deeper into meditation and suddenly it becomes a lot easier to sit still for a long time without distractions from your body. A good meditation cushion therefore helps you to find the perfect harmony between body and mind and to let go of thoughts and focus on your breath.

A round meditation cushion or a crescent meditation cushion?
Do you want to buy a meditation cushion but you have no idea what shape you need? Then check which of these categories you are in:
Do you sit easily in a lotus position? Then you are probably very flexible in your hips and knees. In that case you only need a low pillow, just to tilt your pelvis a little bit forward. A flatter cushion such as a crescent shaped meditation cushion is often the best. But you can also remove (a lot of) filling from a round meditation cushion, making it low enough for you.
Do you not get into the lotus but are you comfortable sitting cross-legged? Then a little higher round meditation cushion is nicer. Experiment with removing some filling to find the ideal height for you. The tilt of your pelvis will also become a little easier if your pillow is not completely 100% tightly filled.
Do you not like to sit cross-legged at all? Then the Japanese Seiza pose is probably the best for you. A meditation bench is perfect for this, but meditation benches are made as standard for people between 1.60 meters and 1.75 meters. Are you smaller or taller? Then try a round meditation cushion, flat or on its side. You are just as comfortable with this in the Seiza position. And the advantage is that you can adjust the height by taking some filling out of the cushion. Especially when you put the pillow on its side you get some extra height.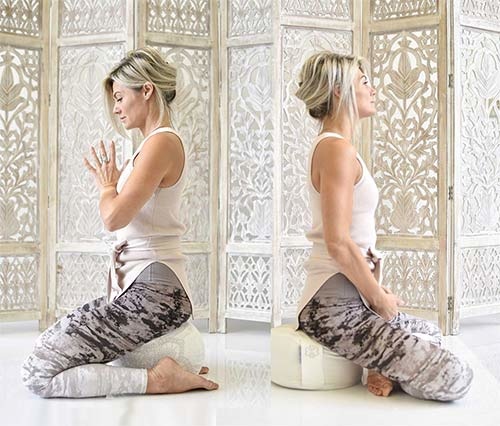 Often with the Seiza posture it is also best to use a meditation mat as a soft underlay between your knees and the floor. Otherwise you will eventually notice that the pressure on your knees, shins and the tops of your foot will distract you.
In the cross-legged or lotus position, a meditation mat under your pillow is also very nice (especially for the nodules on the outside of your ankles), but this is less "necessary" than in the Seiza position. But yes, a meditation mat as a surface is very soft, comfortable and nice and warm anyway. Our experience is that once you have tried it, you will no longer want to meditate without it, in whatever position you meditate!

What else you should think about: your body
Meditation cushions help you to sit in meditation for a long time, but which meditation cushion should you choose now? Meditation cushions come in various colors and shapes, and there are also meditation benches. Which is best depends, as was stated above, on your physique and preference, and is often just a matter of trying.
But do you (sometimes) have injuries or complaints about your hips, back, knees or ankles? Then we strongly recommend that you also discuss this with your meditation teacher and / or doctor. Often there are extra things to look out for. Sometimes one posture is better suited than the other. Moreover, you can think about extra props, for example under the knees when you are sitting cross-legged.
A crescent meditation cushion is a bit wider and lower and therefore automatically gives more support to the thighs. Unfortunately, they are also somewhat lower, so if you need both thigh support and a higher seat height, you might consider working with two crescent cushions (one on top of the other) or a round meditation cushion with two yoga blocks under your knees. Be creative and ask your teacher to think along, multiple solutions are possible in this way.

... And your taste is also important!
In addition to the shape of the meditation cushion, it is also important to choose a pillow that you really like and that fits the room where you want to use it. See what colors are available and if you want a nice application. This is just as important when buying a meditation cushion.
Our experience is that when you make your meditation place as beautiful and pleasant as possible, this has a positive effect on your motivation to regularly practice. In addition, a harmonious meditation spot also helps you relax faster. (This also supports you energetically as in the Feng Shui)

Ordered a new Meditation cushion .... and now?
You wanted to buy a nice and good meditation cushion and now you finally have it at home ... Then these are the things you want to check next:
Are you stable? This provides a basic sense of safety, which is a condition for being able to focus your attention inside.
Are you sitting up effortlessly? This creates a pose in which you can relax deeply and breathe freely, and the energy can flow freely through your body. This will prevent you from becoming distracted by pains or fatigue over time.
Do you still feel tension somewhere? Then vary what is in your seat height and the forward tilt of your pelvis, sometimes it takes a little searching and trying out what is ideal for you. And experience shows that sometimes you have to sit a little longer before you notice that fine-tuning is still needed. (You can adjust the seat height by taking out the filling or adding something extra, for example in the form of dry rice).
Are you comfortable? Do you want to change anything? Do you need anything else? The more comfortable you sit, the deeper your meditation will be and the longer you will want to stay seated. If you feel comfortable during your meditation, it helps you to be more present, focused and alert. Moreover, it also motivates for the next time, which helps to turn meditation into a habit.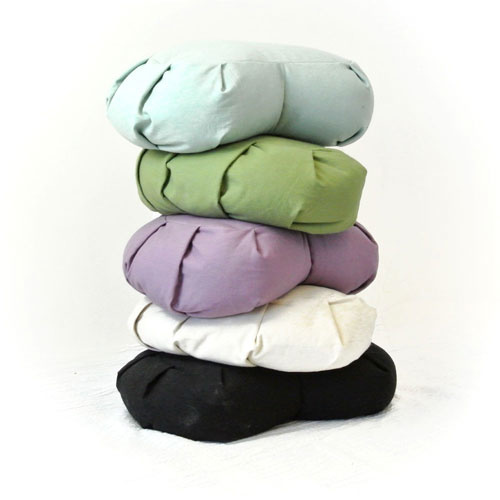 Why a Love Generation meditation cushion is the best choice ....
You now have a clear overview throughout this process of buying a meditation cushion which model you want and which color, but the brand? Is that important too?
Yes, we think so. There is a huge difference in quality between all brands, and we are secretly quite proud of how good the Love Generation meditation cushions are:
The Love Generation meditation cushions have a zipper all the way around the bottom, so you can easily take off the outer cover. Logical? Strangely enough, there are only a few pillows on the market with a round zipper. (Most pillows from other brands have a zipper across, and then all the filling has to be removed if you want to wash the cover)
All Love Generation cushions can be adjusted in height by removing the filling and adjusting the cushion to the ideal seat height for you
All Love Generation cushions are made from the best quality cotton canvas. A 100% natural material that is practically durable. The zippers and stitching have also been extensively tested and are super sturdy.
All Love Generation meditation cushions are filled with natural buckwheat chaff. Buckwheat chaff is a residual product of buckwheat and is ideal as a filling for a meditation cushion because it consists of small hollow shells. The shells interlock a little so that the filling does not "slide away" if you sit for a longer period of time. This therefore provides optimum strength.
Moreover, the hollow shell shape of the buckwheat husks ensures that the total weight of the pillow does not become too heavy, because air also remains between the particles.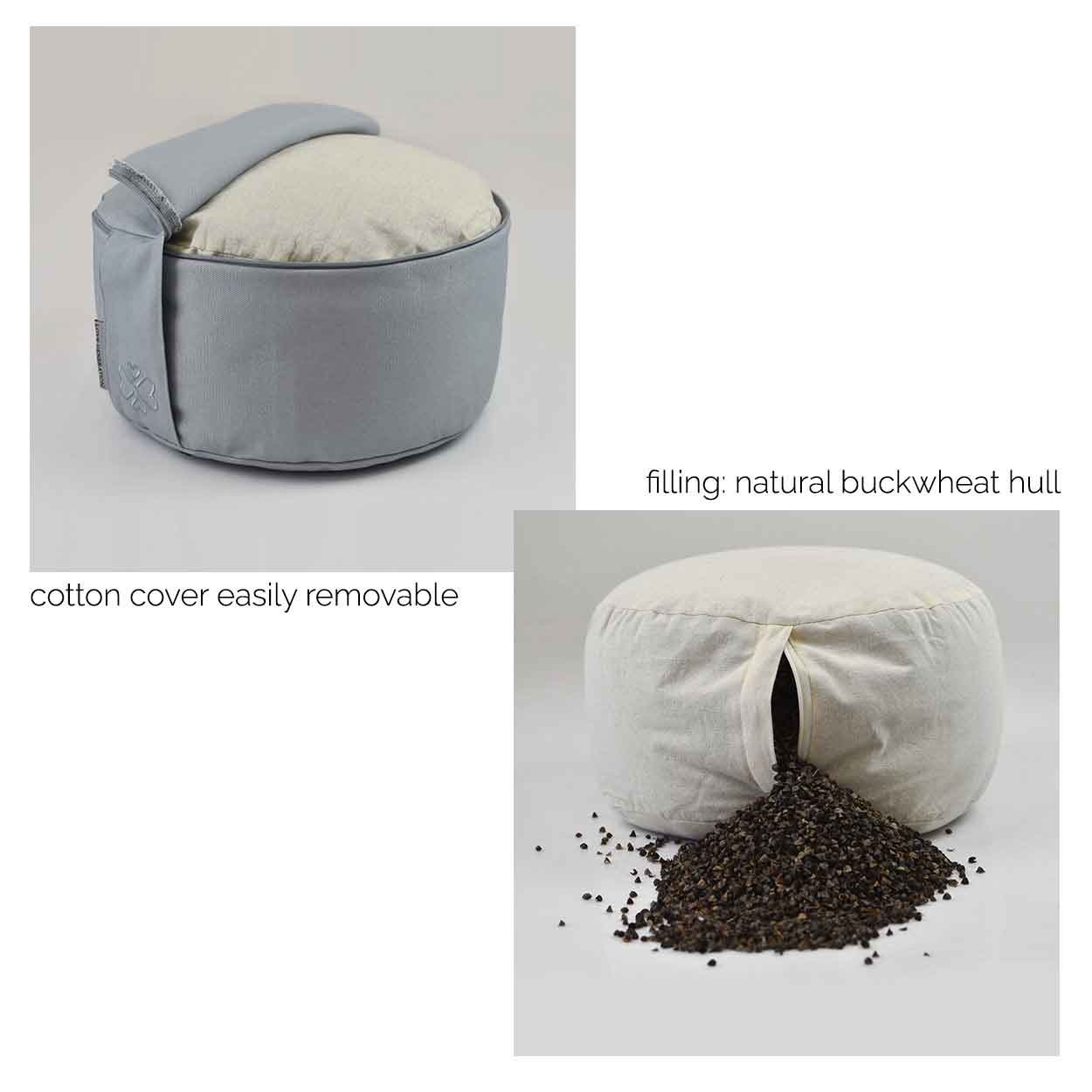 Refilling you meditation cushion
We deliver our meditation cushions with as much filling as possible. This is because it is easier for you to remove buckwheat chaff than for us to send a possible shortage of filling. In the unlikely event that your pillow is too flat, or has become flatter over time. Then you can possibly top it up again with some dry uncooked rice. As long as the proportion of rice does not exceed 40% of the total filling of your meditation cushion, it remains sufficiently firm and also not too heavy.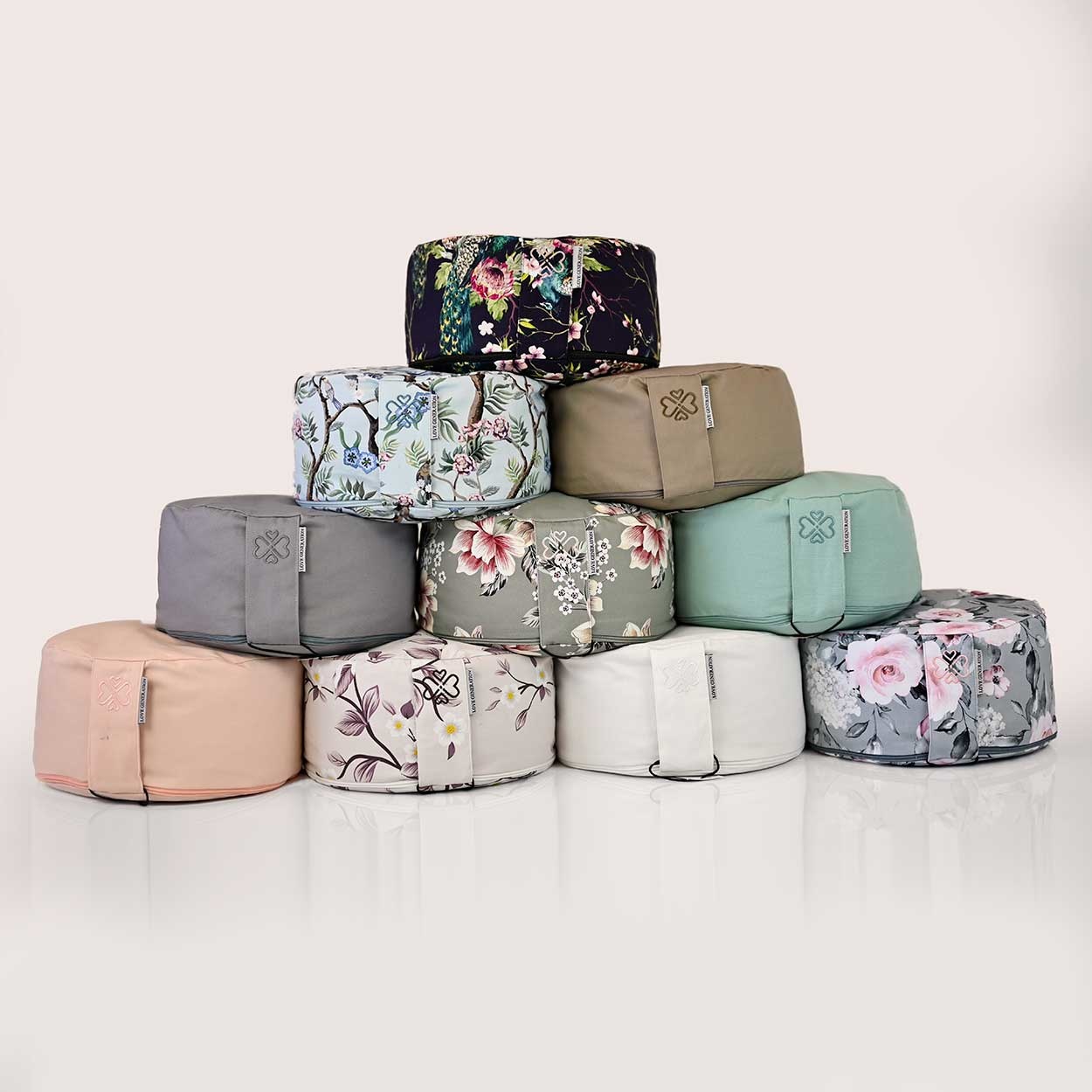 Order multiple Meditation Cushions with a discount - Meditation Wholesale
Are you convinced and do you want to buy a Love Generation meditation cushion but do you need a larger quantity because you are going to set up a zendo or want to meditate with a group?
If you want to order multiple colors, or perhaps other yoga or meditation gear from Love Generation, please email us the order you have in mind and we will send you a customized quote.
Do you want to sell Love Generation meditation cushions in your own store, or do you really want to place a large order for a large meditation or mindfulness school?
You can find more information in the category "yoga and meditation wholesale"
And if you have any questions call or email us, we are happy to think along with you from our experience!