Mindfulness, what is it and what are the benefits?
Mindfulness, what is it and what are the benefits?
Mindfulness, it is a term that you hear everywhere these days. Even in business, mindfulness has played an important role. But what exactly is mindfulness? How are you or do you become mindful, what are activities that contribute to this and why is this topic so popular nowadays?
We tell you more about mindfulness, what this means, what the benefits are and how you become mindful.

What is mindfulness?
What exactly is mindfulness? An important question for when you want to get started or are interested in this. First, let's keep it short and simple: mindfulness is being fully present in the now. Attentive, open and focused on the now. Through mindfulness you learn to get out of your head and to be in the now. You probably recognize this, that you worry or have a lot of thoughts that mainly concern what you still have to do or arrange.
Mindfulness teaches you to let go of those thoughts, not to be influenced by these thoughts. It teaches you to live and enjoy what you are doing at the time. Just imagine. You drive the car back from work and you realize that you still have to do your shopping. You are making your list in your head and at the same time you think about what else you need and want to do that evening. Because apart from watching that documentary on Netflix, you also have to fold the laundry. Suddenly you are at the supermarket and you actually have no idea how you got here. Recognizable? Then it's time to get started with mindfulness.
How did mindfulness arise?
The concept of mindfulness is a Western invention. Previously we only talked about meditation, but this is (specially back in the days) known as too floaty. When scientists wanted to do research on this, they were not taken seriously. But because they wanted to research the benefits, they took the most important components from meditation and summarized them under the concept of mindfulness. Because of this, mindfulness suddenly became concrete and practical and the Western world now found it interesting, especially as a remedy for stress.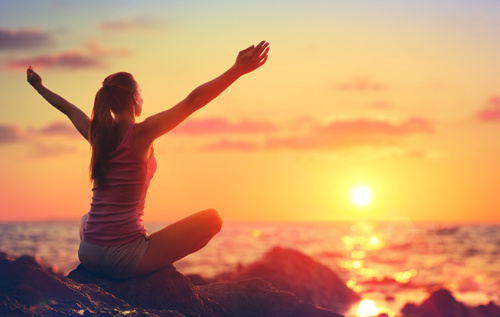 The benefits of mindfulness
Mindfulness ensures that when you drive back from work in the car, you are fully focused here. First, let's look at why this is so important today. The first big advantage of mindfulness, which most mindfulness knows about, is that it reduces stress. But there are many more benefits. Mindfulness:
Increases your focus and concentration
Increase your empathic capacity and your compassion
Increase creativity
Helps with anxiety
Helps make the right decisions
Prevents physical discomfort
Gives more mental resilience
Helps combat addictions
Prevents sleep problems
Creates more peace, balance and happiness

Mindfulness
Now that you know what mindfulness is and what the benefits are, it is of course time to really get started. In the article "Mindfulness exercises" we give you three practical tips and exercises that help you become mindful.