Buying a Yoga Block: What to look out for?
How do you use a yoga block, and what qualities should you look out for?
Buying a yoga block, it seems so simple, but there are still quite a lot of yoga blocks on offer. Therefore, if you want to buy a yoga block, there are a number of aspects that you should pay attention to.
In this blog we will take you on all the ins and outs of buying a yoga block. To give you a good idea of ​​this, we also take you into how you use a yoga block and why you use it during yoga.
What is a yoga block?
A yoga block is a tool, or yoga prop, that you use to facilitate or deepen different yoga postures. It also helps you prevent injuries, because this block literally supports you in the pose. A yoga block looks a bit like an enlarged brick, only made of softer material.
Which block is best for you depends on your needs, yoga style and your body type. To give you a good idea of ​​this, I will also take you into how and why you use a yoga block:
What is the use of a yoga block?
What is the difference between foam yoga blocks and cork yoga blocks?
Are there also eco-yoga blocks?
What size yoga block do you need?
When do you need two yoga blocks?
With which yoga postures is a yoga block used?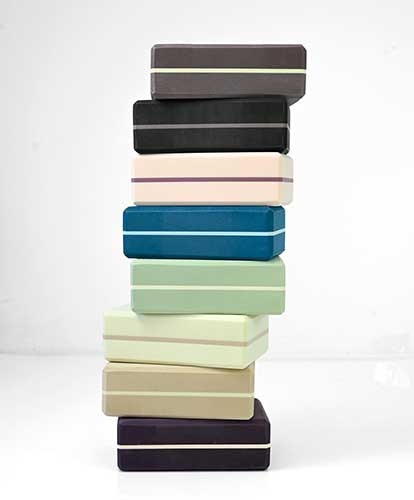 Why do you use a yoga block?
A good yoga block offers support and stability for different yoga postures, and extends the reach of your arms. This is useful for postures where you do not yet have sufficient flexibility, for example; a block allows you to practice achieving it while also maintaining proper alignment in the pose.
Support and Stability: Yoga blocks can be used to bring the ground closer to you, giving you more stability and support when performing poses. Consider, for example, the Trikonasana pose (Triangle Pose), where you may not yet have enough flexibility to reach your toes. A block helps you to stand in a stable position.
Deeper Stretch: Yoga blocks can help you stretch deeper into certain poses without twisting or losing your balance.
Correct Alignment: A yoga block helps you find the correct alignment of your body in various yoga poses. Because it gives you a little more reach, you are often less crooked and therefore you can 'open' better. This reduces the risk of injury and allows you to enjoy the benefits of the pose more.
Adjustment of Postures: Not everyone has the same physique or flexibility. Yoga blocks can be used to modify poses to make them accessible to people who would otherwise be unable to perform the pose.
Deepening Breathing: Yoga blocks can aid in breathing exercises (Pranayama) by creating comfortable sitting positions in which you can stay for extended periods of time while breathing deeply.
Recovery and Relaxation: Especially in yoga styles such as Yin Yoga or restorative yoga, blocks are used as support during restorative postures. Think of back bends or Savasana (corpse pose). Yoga blocks are often used here in combination with yoga bolsters, blankets and pillows.
Progressive Progression: As your flexibility and strength improve, you can gradually lower the support and height of the yoga block (by tilting it), allowing you to deepen your yoga practice.
Yoga blocks are not only useful for beginners, but can certainly be valuable for advanced yogis to improve and refine their practice. Keep in mind that yoga blocks are a tool to help you in your yoga practice, and they can be adapted to your needs and level.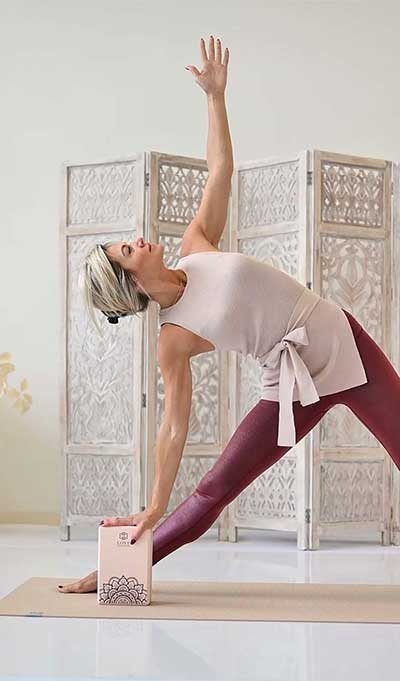 Cork Yoga Blocks vs. Foam Yoga Blocks
| | |
| --- | --- |
| Cork Yoga Block | Foam Yoga Block |
| | |
| | Easier to take with you (easier to transport) |
| A bit firmer, so better for standing poses and balance exercises | A bit softer, so better for lying poses (particularly lower back and head) |
| Absorbs more moisture, so more grip during perspiration | Absorbs less moisture, so easier to clean |
| | |

The pros and cons of a cork yoga block
Cork is a natural and environmentally friendly material that is less expensive and lighter than for example wood. Cork yoga blocks are still durable and sturdy and do not give when pressed on.
Cork blocks are very sturdy and provide stability, making them ideal for support in advanced poses where balance is required.
The disadvantage is that cork is more difficult to clean than foam or wood due to its porous surface. It absorbs moisture and sweat, which can affect the integrity of the block.
Cork blocks are still heavy to travel with or even carry to the yoga studio. They may also feel too firm for some people to lie on.
They stack and store well, but unfortunately, cork absorbs sweat, moisture, and odors, eventually making them smell funky and can become crumbly or dented with wear. Cork blocks must therefore be cleaned regularly and do not last as long as foam blocks.

The pros and cons of a foam yoga block
Foam blocks are affordable, light and great for beginner yogis. Foam blocks tend to be more softer compared to cork or wood yoga blocks and most gentle for supporting your spine, head and pelvis in restorative poses. They are also not slippery, easy to clean and carry.
Foam is softer on the body and gives little resistance when you lie on it.
The material is also subject to wear, easily scratches or dents.
Yoga blocks made from foam are also the least environmentally friendly option unless they are made from recycled materials.
Foam blocks are best for quiet/restorative yoga classes, but are also suitable for supporting the weight of your body in active yoga postures. But sometimes they can also feel flimsy or less stable when used for support in active poses. Therefore, always choose a foam yoga block that is not too light in weight.
The disadvantages of foam blocks are that foam can get dirty and wear out easily, and they are not as environmentally friendly as wood or cork.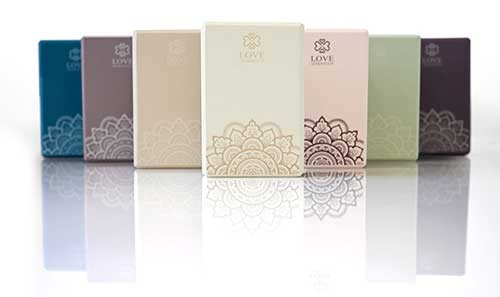 Are there also eco yoga blocks? Which yoga block is the most environmentally friendly?
Yoga blocks are not always durable. That is why it is good to pay attention to the quality when you purchase yoga blocks.
The most environmentally friendly yoga blocks are of course made of 100% natural material; Cork. So without chemical additives. Love Generation has a wide choice of eco yoga blocks made of cork.
Would you rather opt for a foam block? Then check whether it has sufficient strength so that you can use it for a long time, and that the block does not quickly end up in the recycling bin. The Love Generation foam blocks have been carefully selected for their high quality and durability. In addition, they are tested and free of heavy metals, phthalates and other toxic substances.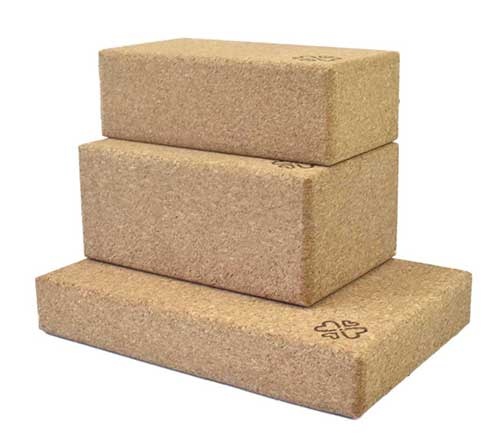 What size yoga block do I need?
You have yoga blocks in different shapes and sizes. The most commonly used yoga block is shaped like a large brick. That is why they are also called yoga bricks. Most yogis choose this type of yoga block. In addition, there is also a thicker -XL- version of the 'yoga brick' and there is another one that is much thinner and wider: the flat yoga block.
The extra large yoga block is great for people with a longer body length, and for people who are less flexible due to their build, or because they have just started yoga.
A flat yoga block is often used for, for example, the shoulder stand and various sitting postures. Because this block has a very low side, you can use it in all postures where a more subtle support is needed.
Yoga blocks are never square. They always have three different sides, and that's for a reason: this way you can tilt your block in three ways. You can choose from three different heights and you can vary the degree of support.
In the beginning you will often choose the highest setting, but after a while try a lower setting, simply by tilting the block. This way you keep challenging yourself and who knows, you may soon no longer need your yoga block for some postures!

When do I need two yoga blocks?
If you want your own yoga block, the question is should you buy one or two blocks? One yoga block is sufficient for most yoga styles. If you practice Yin Yoga, it is advisable to buy two blocks. Also for beginners, one block is usually sufficient for most yoga postures.
Two yoga blocks for Yin Yoga
With two blocks you can use support in two places at the same time. You can tilt the blocks and thus use different heights, so that you can support yourself at the right height for you. It is also more common with Yin Yoga that you place a yoga block on both sides of your body, so that you can lean on it with both hands.
One yoga block for beginners and other yoga styles
As a beginner it is very nice to have your own block. Sure, there are usually yoga blocks in a yoga studio. But when you do yoga at home, it is nice to have your own block at hand. Moreover, this is also much more hygienic. One block is enough for most exercises.
There are some exceptions to this rule: with the yoga pose Tolasana (Scale pose) and the practice of setu bandha sarvangasana (Bridge pose), for example, two yoga blocks can be very useful.
Tip: On the product page of each individual yoga block there is a combi deal in the right-hand side, with which you can order two blocks with an attractive discount.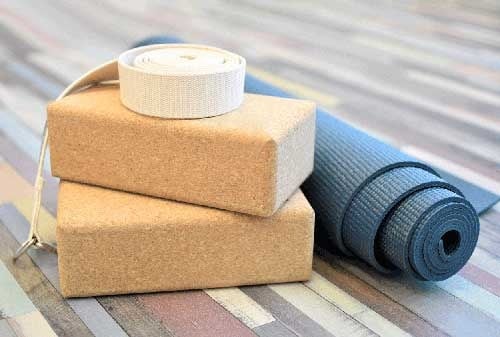 With which yoga poses do you use a yoga block?
With which asanas and yoga poses does a yoga block come in handy? In fact, a block offers support for countless yoga exercises. We have listed a number of them for you, so that you can immediately get started with your new yoga block.
In Trikonasa or Triangle pose, you bring your hand to your foot while standing with one leg straight. A yoga block helps in this position. You will "reach" the ground faster, which allows you to keep your leg in position and open your chest better.
The Half-moon pose (Ardha Chandrasana) puts your balance to the test. A yoga block helps you enormously here. Place the block where your hand touches the ground. You bring the ground closer, making it easier to stand in your asana. You can choose whether you use the block horizontally or vertically.
When you use a yoga block in the bridge pose, you call it a supported bridge pose. You then place your block between your lower back and buttocks - where it feels comfortable.
Another option is to place the two blocks shoulder-width apart against a wall, extending your arms to make it easier to get all the way up in the pose.
The squat or yoga squat is not as easy as it seems. In the west, we've actually kind of forgotten how to squat. While this position is so good for our body. With a block under your behind you can practice this posture better. Some yogis sit down like this to find some extra balance.
Tip: What also helps is a rolled up towel (or blanket) under your heels.
At the camel you open your chest and heart chakra. This can be a challenging position for the novice yogis. This is where 2 yoga blocks come in handy. You place them on the outside of your feet. Now you are leaning on the blocks instead of on your heels. This way you get into the Asana faster.
Most yoga routines begin and end with a seated meditation. Is the cross-legged seat uncomfortable for you? With a yoga block you lift your bottom off the ground, causing your pelvis to tilt. This makes it easier to sit with crossed legs. This also helps when you practice the lotus sit.
Yoga block for meditation
A yoga block is also used to sit on during meditation. If you have a short meditation session, for example at the start of yoga, you can use your yoga block for this. If you meditate more often and for longer than seven minutes, it is better for your hips and pelvis to sit on a meditation cushion.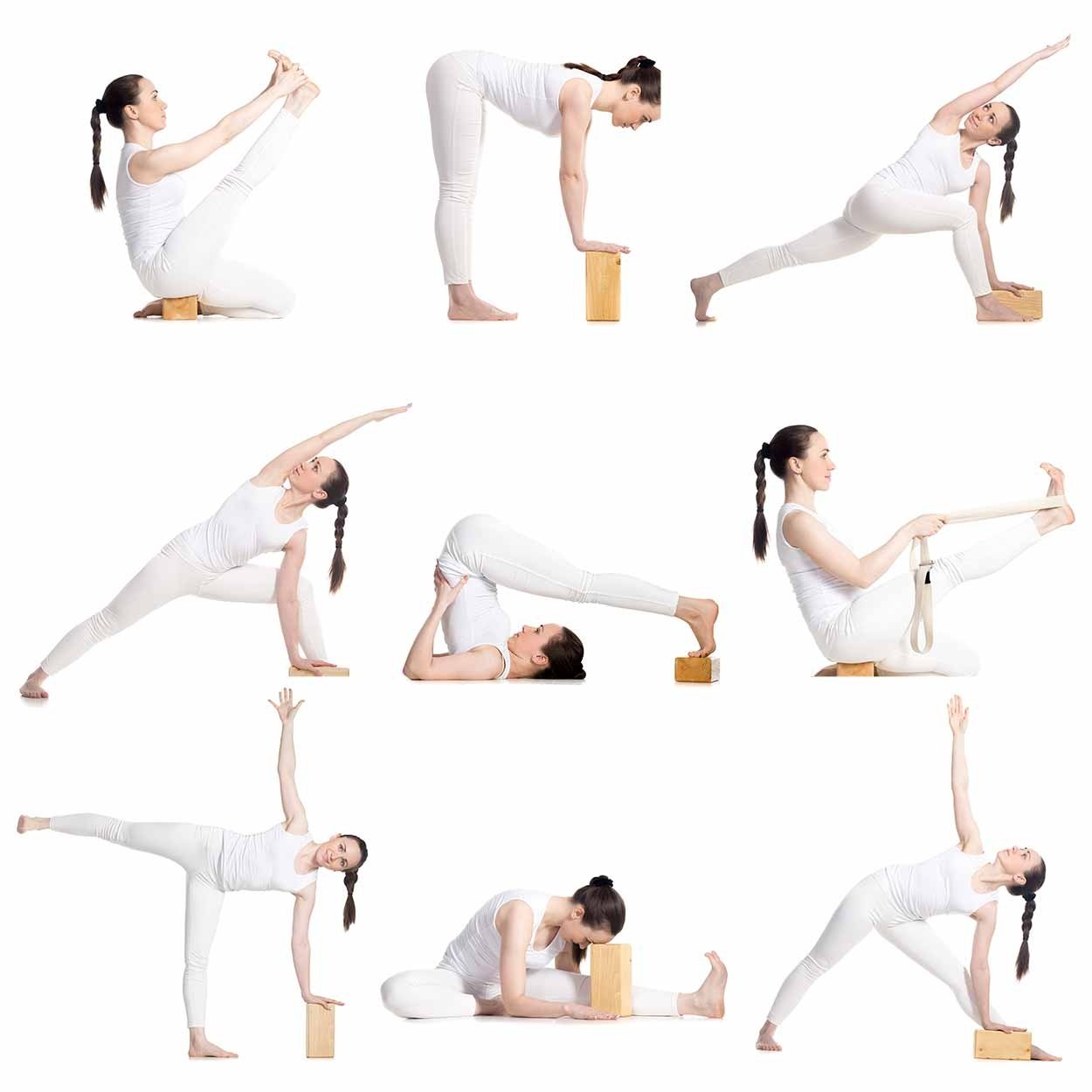 Which Yoga block are you going to buy?
And? Have you made your decision? Are you going to buy one or two yoga blocks? In any case, you now know what to pay attention to in terms of material, color, size and what you use a yoga block for. And if you order your new yoga block from us, you will receive it tomorrow!