Neti Pot | Nose Rinse & Breathe Better Immediately
Do you suffer from hay fever or a cold? Or do you have trouble breathing?
Try a nasal rinse with a Neti Pot!

A neti pot? What is that?
Jala Neti Kriya is an ancient Indian method from Ayurveda where you simply rinse your nose with salt water. Does that work? In our experience: Yes! It works, this nasal rinse is a very nice, cheap and natural way to relieve respiratory complaints due to colds and hay fever.
Doing a neti nasal rinse is not difficult and works like this: You fill a neti pot with lukewarm water and a spoonful of salt, and rinse your nose with it. Sounds simple, and it is, but to make it even easier, here are a few helpful tips.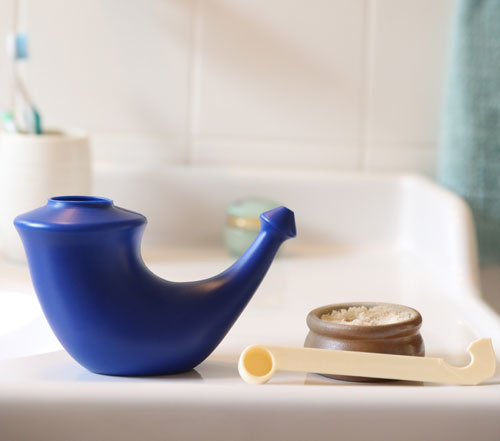 How much salt should you use?
Just enough so that the water tastes as salty as your tears. A handy measuring spoon is included with the Rhino Horn Neti Pot, but for all other neti pots, the taste is leading: if it tastes like tears, you have found the right salt ratio. Usually it will be about a teaspoon.
Some Ayurveda or health food stores recommend using Jala Neti Himalayan salt, celtic sea salt or something else special. Our experience is that simple table salt is also fine. Save your fancy salt for cooking; for flushing your nose, regular salt is good enough.
How does a nasal rinse work?
So you have filled a neti pot with lukewarm water and a spoonful of salt, and now you can rinse your nose. But it is still very stuffy! Start with the nostril that is least clogged. You place the nozzle on that nostril and slowly pour the water in.
It may feel a little strange the first time, but it doesn't hurt and is quite pleasant. You tilt your head slightly forward and tilt to the left or right over a sink so that it flows into your nasal cavity and not back into your throat. This works best with your head over a sink or in the shower (so you have plenty of lukewarm water at hand).
If all goes well, the water will start to trickle through to the other side, and you will feel droplets coming out of your other nostril. If this is not the case right away, alternate the nostrils a few times and blow your nose well in between, until the whole thing starts moving little by little.
By alternating between the different nostrils, the blockage is slowly but surely released and you rinse your nose completely clean, and eventually the water flows easily; in one nostril and out the other. With a very stuffy nose, this can take some patience.
Once you're done, it's good to clear all the water from your nasal passages. For this it is best to bend your head all the way forward (uttanasana) and then slowly roll back up until you are upright again. This way you know for sure that no water remains behind, and your nose is completely fresh again and you immediately suffer much less from your hay fever or cold. You will also be able to breathe better immediately.
How often do you use a neti pot for hay fever or a cold?
It depends. Some people do this daily, for example to be able to breathe properly every day during their yoga practice. Others only use their neti pot occasionally when they have a cold, or when they feel hay fever coming on.
Because it is a neutral rinse without chemical additives, it actually means that you can do a Jala Neti rinse as often as you want. Due to the addition of salt, the water also feels pleasant and the mucous membrane in your nose is not irritated. (as is sometimes the case with chlorinated water or chemical nasal sprays). So you can breathe freely again without annoying side effects!
Is this still done in India?
Yup. This method stems from the ancient Ayurveda teachings of health, and Jala Neti there is like brushing your teeth. Included with the Ali Baba Neti Pot is an original Indian user manual, which we just liked too much not to share here :-)