12 positivity strategies for more happiness in your life
You can cultivate positivity and it directly contributes to your feeling of happiness. Would you also like to be more positive in life? Are you secretly jealous of friends who always seem to be happy?
Trust me, you're not alone. That is why I dived into the world of positivity for this blog. You can read here, for example, how you can be positive more often and I have collected 12 new strategies for more happiness in life for you.
Think positive
Many people find exhortations like 'count your blessings', 'think positively and focus on the good', 'be kind to your fellow man', 'look on the bright side', or 'with a smile you can achieve more!' sound banal or cliché.
Or you experience it as avoiding less desirable emotions such as fear and sadness. However, as you will read, when you consciously apply and learn them, these strategies prove to be quite effective. This is evident from numerous studies on positivity.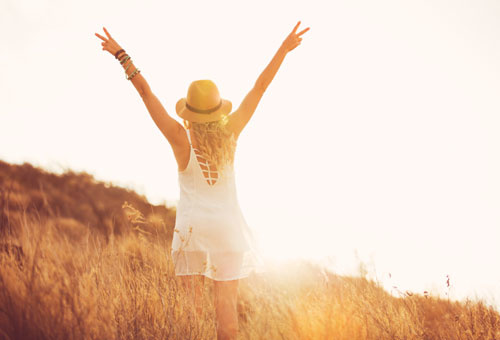 Always be happy?
Sometimes you associate these optimistic statements with people who are so happy and blissful that you don't believe them. You can sense in everything that their cheerfulness is just a thin layer of varnish. People with whom things are always going well and who are always happy? This is a utopia.
Everyone has their struggles and moments in life when everything seems heavy. And meaningless. I know all about that. What is not a utopia is that 40% of our own happiness is in our hands. But hey! This is not to say that it is your own fault if you feel down. Stop blaming yourself for that right away!
It is good to examine yourself whether your positivity is actually masking something else.
Toxic positivity
A too one-sided positive attitude can become harmful. This toxic positivity means that everything should always be a dream come true. There is only room for light, airy and happy. Being cheerful almost feels like an obligation; there is no place or understanding for some negativity from time to time. Laugh and keep going is the motto.
Pushing away negative emotions
However, this can create insufficient space for, for example, sadness and anger, so that they are avoided. Avoiding or hiding these emotions hinders their processing.
Suppressing unpleasant feelings may seem enticing at times, but they are like a telephone that keeps ringing until you pick it up, or, to put it another way, like a ball that you try to push under water with all your might.
When you let go of it, it shoots up harder than ever. They just keep coming back to those emotions until they are listened to. Read this study if you want to know more about it.
Agitation
A positive attitude certainly helps to keep you going when difficult things come your way. However, toxic positivity completely ignores your natural reaction, which is sometimes also sadness, anger or mourning and can therefore cause a lot of agitation.
Aptitude for happiness
Having said all that, it's nice to know that there are strategies that can help you increase your daily happiness. To bring more positivity into your life. As I mentioned above, we have 40% leeway to increase our happiness level through our daily thoughts and behaviors.
You can train this.
Unfortunately, it is also the case that 50% of our happiness in life is genetically determined. This is the outcome of large-scale studies of identical and fraternal twins. So you have been given a certain predisposition, a kind of basic level of well-being.
Enough space to change things
If you were born with a predisposition for happiness, then you are lucky!
You will automatically see things more positively, you don't have to work as hard. For the less fortunate among us, before you get depressed by the idea that you're born depressed, I want to highlight one important implication of all of that research: that anyone who wishes they were happier should be a little less hard on themselves.
Because indeed, for a large part the cards are simply shuffled. Your aptitude for happiness may depend on your happy mother or your depressed father or an average of them. We'll never know.
If you want to pave the way to a happier life, you have to be happy about the fact that fifty percent is only half of one hundred percent, leaving plenty of room to develop positivity.
Your outer circumstances are not the key to your happiness
What about that remaining 10%? This is the variation in happiness level that is explained by differences in living conditions. So whether we are rich or poor, fat or thin, beautiful or ugly, married or single, healthy or unhealthy. Yet we are mainly concerned with changing our living conditions because we think it will make us happier!
If I'm slimmer, I'm happier.
If I live somewhere else, my life will be sunnier.
If I had money everything would be better.
If I had a partner I would experience positivity.
In the end, it's only a meager 10% on the whole. In other words, it is not the key to your happiness.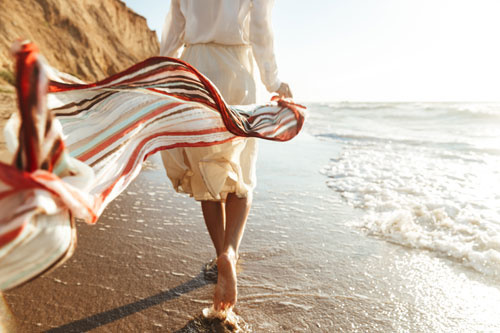 Commitment and dedication to change your everyday behavior
That key lies with that 40%, in our daily 'conscious behaviour'. And this is where positivity comes in. Do you not have the "lucky" genes and do you want to become happier in a sustainable way? You can, but it requires daily commitment and dedication.
If this all seems very selfish, focus on your own happiness: by becoming happier, you not only benefit yourself, but also your partner, children, colleagues, your living environment, and ultimately society.
12 tips for more positivity and happiness
How can you influence that 40% of your 'makeable' happiness? There are twelve – again scientifically proven – strategies for this. Choose the tips and exercises that suit you best and don't try them all at once! The chance that you will drop out is much higher.
Exercise in gratitude and positive thinking
1. Show Gratitude: Count your blessings for what you have. Expressing gratitude by definition means focusing on the present, being grateful for your life as it is now and for the reasons why it is. One way to do this is to make a list once a week of the things you are grateful for.
2. Cultivate optimism: Keep a log or journal where you write about the best possible future for yourself, or practice looking on the bright side of everything.
3. Don't worry or compare socially: strategies (seeking distractions, for example) that allow you to dwell less on your problems and compare yourself less with other people.
Investing in social relationships
4. Being kind: doing good things for others, friends or strangers, directly or indirectly, spontaneously or planned.
5. Nurturing Relationships: Pick one of your relationships that could be strengthened and invest time and energy in patching up, cultivating, affirming, and enjoying.
Dealing with stress, adversity and trauma
6. Develop Coping Strategies: Practice ways to endure and overcome stress, setbacks, and trauma.
7. Learn to Forgive: Keep a journal or write a letter expressing your anger or hatred toward someone who has hurt or harmed you.
Living in the present
8. Do more immersive activities: increase the number of experiences at home and at work in which you 'let yourself go', which are challenging and absorbing (e.g. 'flow' experiences)
9. Enjoy life: pay attention, take pleasure in something and think of the joy and miracle of life. You do this by thinking, writing, drawing or exchanging experiences.
Commitment to your goals
10. Commitment to your goals. Think of one, two, or three important goals that can give meaning to your life and devote time and effort to achieving them.
Taking care of body and soul
11. Religion and Spirituality. Work on seeking the sacred in many things, through meditation or prayer. Infuse your daily life with a spiritual dimension by cultivating feelings of awe, inspiration and wholeness, nurturing a belief in a power greater than yourself and developing a connection with the otherworldly.
12. Take care of your body. Be physically active, meditate, smile and laugh.
Develop new and healthy habits
If one or more of the activities appeals to you, do some research and agree with yourself that you will do them for a while. In this way you develop new and healthy habits, in other words you teach your brain new routines.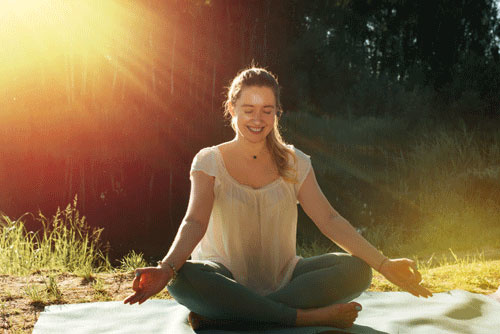 Be aware of what it does to your sense of happiness. It is sometimes irritating when you know that naturally happy people - those lucky ones who have a strong disposition - seem to have inherited such skills. They don't have to try to be positive, grateful, or forgiving; it's second nature to them.
If your aptitude for happiness is not that strong and you are not so blessed with good habits, know that with a little time and persistence you can develop exactly the same routines in yourself.
Hey, and if your commitment and dedication to your happiness wanes, remember that people get happier as they get older, peaking around age 65!
If you want to read more about this topic or find out what the claims in this blog are based on, read Sonja Lyubomirsky's book, the How of Happiness.