How can you ground yourself? 3 exercises to help you
Grounding helps you to be more present, more in the here and now, and pay less attention to that ongoing chatter in your head. You experience a deeper connection with the earth or with mother Earth, the one who carries and nourishes you.

Ground yourself
Perhaps the most important question: how should you ground yourself? In this blog I give a few exercises with which you can ground yourself and I further explain how grounding works and why grounding gives it such a solid feeling.
Attention to your buttocks
My first experiences with sharing my deeper feelings in a group - during sharing rounds in a coaching course - evoked a storm of panicked thoughts in me. What exactly am I going to say? What if I start crying right away? If I don't come out of my words? All my attention was in my head.
Here I learned for the first time what happened when I then brought my attention to my buttocks and feet, felt how my sit bones touched the chair, how there was a connection between my feet and the ground below me. My attention shifted and my energy followed.
Thoughts quieted, my heartbeat slowed, and as I finally shared, the words just flowed out of my mouth. Still with tears, but oh well, that interested me less because that judgmental voice was somewhere far away in the background.

What is Earthing?
I found this definition in the spiritual dictionary (yes, it exists). Earthing is coming into balance with yourself and with nature. When you are grounded, the universal life energy can flow freely between you and the earth. If you are not grounded, this energy will be blocked or retained in your body. This can lead to stress and health problems, both physical and mental.
"When we are unaware of our physical body in the here and now because we are trapped or alienated from this awareness, grounding provides a cord through which we can return to reality" – Charlotte Watts
Grounding assumes that you make contact with the earth and you achieve this by relaxing, letting go. You then feel rooted and experience reality more from your senses than from your head.

Earthing or grounding
The two concepts of earthing and grounding are interchangeable. It means the same. Your electricity grid in the house is also grounded. Via an earth pin in the ground. We humans also need to ground. Because of your grounding, tension can flow away from your body. Busyness, emotions, stress and unrest then flow away automatically, from your body and from your energy field.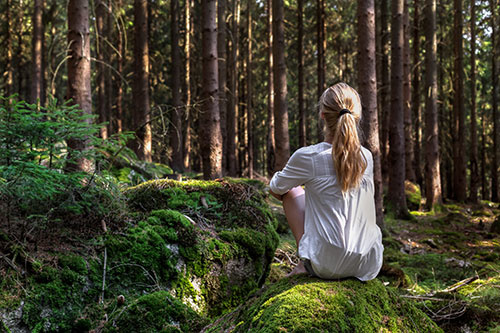 Three exercises to ground yourself.
If you want to ground yourself, start with this exercise. The most stripped down and simplest grounding exercise is to bring your attention to the lower parts of your body. You can do this exercise wherever you are and it will help you if you find yourself too much in your head.
Exercise 1. Grounding with your feet
When you stand, bring your attention to your feet, and feel how your feet touch the ground, how the ground carries you. So when you sit, bring your attention to your sit bones and where they touch the chair.
The next two exercises for grounding are a bit more extensive, but can also be done in five minutes. Preferably do them barefoot.
Exercise 2. Grounding while standing
Stand without locking your knees. Relax and make yourself as tall and wide as possible.
Center yourself by moving your breath and attention to your lower abdomen.
Evoke feelings of firmness, stability and heaviness, and repeat to yourself 'I'm here, I'm rock solid'.
Bring your attention to your feet and imagine that you are being pulled down by the magnetic action of the earth. Sink into the ground as it were and become one with the earth.
If you are well grounded and centered, you can stand on one leg with your eyes closed without wobbling.
Exercise 3. Red socks
Visualize red energy pouring into your feet from the earth and circulating it through your feet and legs. Then tense and relax the parts of your feet and legs. Then tap your feet and legs with your fists.
According to Chinese teachings, it is best to ground with red socks. Red is the color of the element earth.

Meditation to ground yourself
For a while I started my morning ritual by visualizing roots and a grounding cord, a grounding meditation. I made contact with the earth and laid the foundation for a new day. You can decide for yourself how short or long your grounding meditation will take. A meditation to ground yourself goes like this:
Sit up straight. Do you have a garden or can you sit outside somewhere? Then put your bare feet in the grass or the ground. But inside on the couch is also fine.
Breathe in through your nose as calmly and deeply as possible. Close your eyes.
Feel how your feet are on the floor. Wiggle your toes if necessary. Then imagine how long roots grow out of your feet, straight into the earth. Notice how solid that feels. Hold that powerful feeling.
Then focus your attention on your breathing and possibly place your hands on your stomach. Focus to just below your navel, the center of your body. Now try to get to that point with each breath.
Then visualize how from that point below your navel a grounding cord of hip width (!) goes down into the earth. You may see a thick thread, a braided cord, or a tube of light or colors. Everything is possible. It's your cord. That descends ever deeper through all layers of the earth to the core of the earth. There the cord anchors itself firmly. If you don't know how, imagine a thick metal tube there that you can wrap the cord around.
Now you can continue your meditation the way you want. For example, by focusing your attention on your breathing.
Want more ideas about meditation? Then read our blog about Meditating for Beginners.
Grounding meditations on the app
On (my favorite) meditation app Insight Timer there are almost 800 different grounding meditations. Choose the length, with or without background music, male or female voice and try one.

Even more grounding activities
African dance, foot massage and gardening are often mentioned as examples of grounding activities. I want to add one more from my own experience: trampolining.
In my living room there is a small fitness trampoline against the wall. Often when I have a vague feeling, when I don't know what to do with myself, or have too much on my mind, I fold that thing down, put on some rousing music and jump for twenty minutes as if my life depends.
Your energy is guaranteed to drop! An additional advantage: fixed emotions get moving and it has a detoxifying effect.
Gemstone to ground yourself
Energetically a little more subtle than African dance - many people don't notice the effect of crystals - but maybe you feel it, or at least believe it works. Then you might consider carrying one of the gemstones below with you (you can put it in your pocket or bra or on a necklace).
Smoky quartz, jasper, black tourmaline, hematite, carnelian and snowflake obsidian are all stones that have an earthing effect.

Basic chakra
The element of earth is connected to the first chakra, your root chakra or muladhara. This chakra is located at the base of your spine and is associated with survival. Psychologically, this chakra is focused on self-preservation, the right to be and to have. Want to know more about the chakras? Then read this blog.
Earth in balance
When the earth element is in balance within us, we feel stable, confident, connected, focused, patient, and have a realistic, practical attitude.
Too much soil
This can result in sluggishness, laziness, self-indulgence, constant identification with problems, fatigue, disinterest, victimization, weight gain, constipation, fluid retention, and the need for heavy food.
Too little soil
This can result in fickleness, dissatisfaction, search for safety, inability to set boundaries, tendency to neglect the body, diarrhea and stomach upset.

Selfcare practice
Whether jumping on a trampoline, circulating red energy through your legs, focusing your attention on your feet several times a day, or taking an African dance class, these are all self-care practices that will keep you mentally and physically healthy. 
Just as practicing yoga is a self-care practice, with grounding asanas, such as the mountain pose, the tree pose and all warrior poses. If you want to start with yoga you can find a lot of information on this Yogashop website, for example here.
Stay grounded!