Mandalas... Why is everyone obsessed with the ring?
Mandalas. You are unconsciously attracted to it. You like them. You like the symmetry. Of mysticism. Of the hidden symbolism.
It is not surprising that many people opt for a mandala as a tattoo, as wallpaper or wall decoration in the bedroom (like in my own bedroom). Or even on your caravan (as with friends of mine).
The use of these geometric circular figures is timeless and they depict a profound spiritual symbolism. But why is a mandala so attractive to you?
Why is everyone under the spell?
What does Mandala mean?
The word comes from Sanskrit. Mandala means magic circle. Usually you hear people say mandala, with the emphasis on the second a, the correct pronunciation is mándala, with the emphasis on mán, and the second part sounds like dalla instead of dala.
Still nice to know how to pronounce it when you show your new mandala tattoo to your friends.
When is something a mandala?
A mandala is usually round, sometimes angular or even square. It can be filled with pictures, symbols or shapes.
The outer edge, the circle, represents the infinite, the universe. It is a prototype without beginning or end. However the image is filled in - with characters, shapes, colors - everything is grouped around the center.
The center point symbolizes the power that comes together, where everything begins and to which everything is connected.
Where does the mandala come from?

Thousands of years ago
Depictions of mandalas go back thousands of years, to the older Stone Age. The age of these circular shapes carved into the rock is estimated at 20,000 years. Mandalas have been used for decades in various spiritual traditions:
to focus attention
for creating a sacred space
as an aid in meditation
Hinduism, Tibetan Buddhism, Jainism, and Shintoism view the mandala as a map representing the gods. Christianity also had mandala shapes long ago, just look at the rose windows in churches and cathedrals.
The past century
The Swiss psychiatrist Carl Gustav Jung was the one who introduced the term mandala - and its given meaning - to the modern western world.
In the New Age movement, the mandala is seen as a geometric pattern that symbolically represents the cosmos; a model for the structure of life itself, a diagram showing its relationship to the infinite and the world extending beyond mind and body.
Sand mandalas

Chaos in India
Exactly eleven years ago I walked through a street in Mumbai in India where people were busy selling all kinds of plastic items to each other or stood behind counters where broken electronics were carefully examined.
Tangled electrical wires hung precariously next to leaking gutters, a sliding mound of sand supported a tub of dried chilies. Signboards with the signs of the Devanagari - the typical letters of Hindi and Sanskrit, of which I only recognize the Ohm sign - contributed to the multitude of unknown impressions, the chaos and sensory overload.
Colored circle
My gaze wandered restlessly around me, I had trouble concentrating. Until my eyes were drawn to a colored circle of sand. Pink, blue, yellow, green, white and orange, built up from the center with spirals, dots, ever-expanding circles.
Just on the gray concrete street, behind three women in red saris on a bench. Next to the women was a small altar with flowers and other offerings. I guessed it was a religious expression, had no idea what it meant.
I did realize that it could never last long, there on that busy shopping street. The sand would blow away, wash away or be trampled by feet. For a while I stared in fascination at this piece of art - the longer I looked, the more detail I saw - took a picture and resumed my walk, calmer now and less agitated.
Tibetan tradition
It was only much later that I discovered that making a sand mandala is a Tibetan Buddhist tradition, in which a group of monks create a mandala from colored sand. The process is very ceremonial and often takes several weeks, during which the sand is sprinkled in detail in the drawing.
They start in the middle and slowly work their way out. The destruction of the sand mandala is also a precision job. Finally, the sand is collected in a pitcher and returned to nature somewhere in a river or other flowing water.
Attachment
The tradition symbolizes the transience of things, all material things are transient. No matter how much dedication, attention and time they put into it, the mandala is always destroyed. A great exercise to really let go of your attachment to your creations.
I imagine it's like writing a nice piece of prose and then deleting it letter by letter. Phew, I think I still have some work to do in terms of detachment. But seriously, it's such an important life lesson that it's about the process, not the ultimate goal or result.
In other words, be with your full attention in the moment when creating, and not always be busy with 'when it's ready' or 'when it's finished then ...'.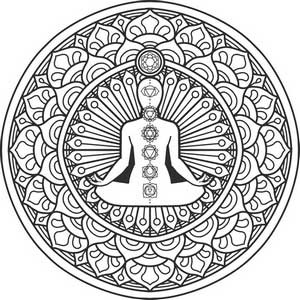 Symbolism of the mandala
In some Vedic scriptures, mandala is translated as a magical diagram, representing the essence of the deity in a geometric symbolism.
Let that sink in for a while. So a mandala touches on sacred geometry.
Geometry in the mandala
Sacred geometry is about universal patterns and mathematical relationships that we see in the design of everything in our reality. It is reflected in architecture, art, music and nature. The shapes and patterns fascinate us. Whether geometric shapes in nature or in a work of art, the fascination can be so awe-inspiring that you naturally connect with the higher, with the spiritual.
At the basis of these patterns are proportions that can be measured. This mathematical and esoteric domain is known as sacred geometry and invites you to look at the world differently.
Famous mandalas
There are a number of well-known mandalas that everyone has seen. The best known is perhaps the Flower of Life, and the mandala that underlies it, the seed of life, both also examples of sacred geometry. There is so much to tell about these all-encompassing and mysterious symbols that this is for another blog.
How to make a mandala coloring page?

Coloring book for adults
On my fortieth birthday I got a mandala coloring page for adults from a friend. Apparently the age when you start coloring in your coloring book again. After my first 'this is not for me' judgment, I gave in anyway and secretly found it quite amusing.
And I'm clearly not the only one, step into your local bookstore and your eye falls on a mandala coloring book, drawing mandala art, embroidering mandalas or mandala coloring or dot paintings. All kinds of ways to be creative yourself with mandalas, while drawing or painting, dotting, crocheting or embroidering.
Why color mandala?
A small survey among acquaintances shows that colouring the mandala gives peace and focus, and that you can express something that lives within yourself through the colors, symbols and shapes. It is therefore both a reflective and a creative process.
If you're going to draw them yourself, it's helpful to start by making a simple large circle, the outer edge, and a small circle in the center. From that base, the center dot, you then work outwards, in a circular motion. You repeat shapes, so that a pattern is created.
Draw what inspires you
You can use anything that inspires you to draw a mandala: nature (flowers, animals), architecture, crystals, but also artistic expressions from other cultures such as Hindu and Buddhist motifs. I would say, give it a try, if it doesn't work out, you can always give the coloring pages to a friend who is turning forty.
A mandala on your yoga mat
If, after reading this blog, you feel the need to surround yourself with powerful mandalas (instead of making them yourself), you can do so in various ways.
You can buy a poster for your wall or earrings with images of the flower of life. To make your yoga practice more magical, we have some beautiful items with mandala print at Yogashop.