Meditation for beginners: everything you want to know about meditation
Meditation for beginners: everything you want to know about meditation
Meditation, it is a very nice way to check in with yourself. But it is also a bit scary, isn't it? Especially when you've never meditated. You've probably heard and read a lot about how others meditate, but how and where do you start? How do you ensure that you continue? And what do you actually need to meditate?
Do not worry! In this article we take you through everything you want to know about meditation when you want to start with this. From the above questions to how you should sit during your meditation to how long to the different types of meditation techniques.
Meditation: back to basics
Meditation isn't a bubble bath. What we mean by this is that meditation is not relaxation. Meditating is effort. Not physically, but with your head. You are constantly working to stay in the here and now. Thoughts come and go, daydreams, shopping lists ... the purpose of meditation is not to be completely silent with your thoughts. The purpose of meditation is precisely to make you realize that you have these thoughts and to bring your focus back to the here and now.
There are various meditation techniques that help you with this and which we explain below. You don't have to do it right right away. The most important thing is that you try. And believe us, practice really makes perfect. Where during your first few weeks you may still be constantly wandering and being swallowed up by your thoughts ( been there, done that ;-) ), after a few weeks you notice that you are increasingly able to realize that you have strayed. When you realize this, you are also able to return to the here and now. And now let this be the core of meditation.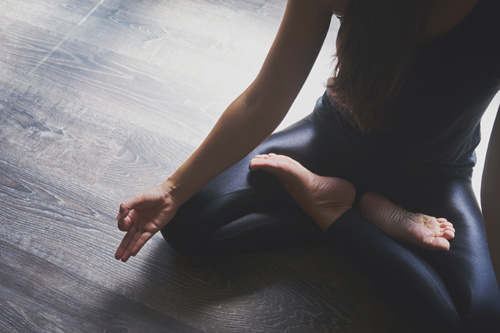 Start meditating
Starting meditation is not that difficult, but continuing to meditate is often difficult. In the beginning you are motivated, but when this motivation diminishes, then it comes down to discipline. So start slowly and build up your meditation time with 10 minutes to half an hour (and you can do it for a few months). This way you work on building a habit that is easier to sustain.
How do you meditate?
Sitting on a chair (feet flat on the floor and back straight)
Lying down (better not, because the chance that you fall asleep is high)
Sitting on the floor
Or on a meditation mat, which is nice and soft
Meditation techniques for when you start
There are different types of meditation techniques that help you to keep your focus during meditation. Especially when you are starting, it is nice to experiment with different techniques, to find out what suits you best. A number of meditation techniques that are nice to try:
Meditate with your eyes open
Guided meditation
Set up meditation music
Meditate on breathing
Meditate and focus on the sounds around you
Guided meditation and breathing meditation in particular are the most used when you start your meditation adventure. There are various apps, such as Headspace and Ten Percent Happier that guide you through a voice during your meditation. They tell you what to do, what you can focus on and keep you in touch with their voices. The advantage of such guided meditation is that it is easier to keep your focus on this voice, so that you are less likely to get lost in your own thoughts. The disadvantage of such a meditation is that you still need an "external anchor" within meditation.
With a meditation focused on breathing you are your own internal anchor. You do every inhalation and exhalation consciously. You can also name it aloud to yourself: In. Out. In. Out. You go astray on a given point. This is possible after breathing in and out twice, this can be done after 20 times breathing in and out. But the most important thing is that you realize this and get yourself back to your breathing: In. Out. In. Out.
Meditation, what do you need?
You don't need much to meditate or to start meditating. The most important thing is your motivation and then perseverance and discipline. But to help you on your way, here's a nice list of what you can buy as a meditation beginner:
A round meditation cushion
Meditating on a meditation cushion makes it easier for you to sit up for a long time. This round meditation cushion namely conforms to your sitting position, so you just sit comfortably and actively while meditating. On a round meditation cushion you meditate cross-legged, lotus position or with both legs on either side of the cushion. The Love Generation round meditation cushions are adjustable in height, so that you can find your perfect meditation seat.
- You can buy the round meditation cushions here at Yogashop -
A crescent meditation cushion
There are also moon-shaped meditation cushions. As the name suggests, the shape of this pillow is half a moon. These cushions are generally somewhat lower and wider than the round meditation cushions. You use this crescent meditation cushion when you like to meditate cross-legged or in a lotus position. Because of the shape of the crescent, this cushion gives more support to the thighs. And the lower front ensures a pleasant tilt of the pelvis. This makes it easier to sit up for a longer period of time (an active posture is important when meditating) without getting tired.
- You can also buy the most beautiful crescent meditation cushions here at Yogashop -
Incense while meditating
Did you know that scents can strengthen your focus? And when you smell a certain scent and get used to it while meditating, you signal your brain that it is time to focus again. This is also an external anchor to focus on, but it smells wonderful and especially when you start meditating this is just very nice. Lighting incense during your meditation is therefore really not a bad idea.