Prenatal Yoga | 7 yoga exercises when pregnant
You are pregnant, congratulations! I hope you have a beautiful, happy and of course healthy pregnancy. Prenatal yoga is a very good idea to support yourself in this. I would like to share from my own experience:
My 7 Best Yoga Exercises During Pregnancy!
To give you an idea of ​​the yoga exercises that you can expect during this yoga style, we have listed seven exercises that come back within every prenatal yoga class.
And are you looking for a nice yoga mat to practice prenatal yoga? Then it is best to choose an extra thick yoga mat that provides more support. Props such as a yoga bolster and a yoga blanket also ensure that you lie comfortably.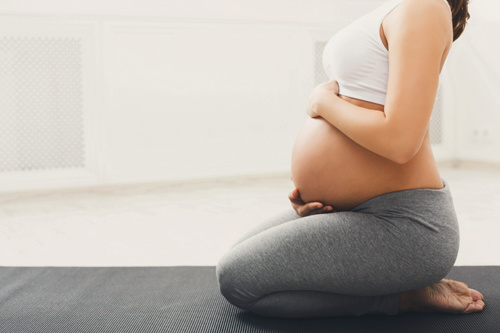 Bridge - exercises for your lower back
This yoga pose, the bridge pose, is good for your lower back. This relieves pain that you have in your lower back during pregnancy. At the same time, it makes your back stronger. Always keep breathing during this exercise, even when you are tensing.
Start lying on your back with your legs straight. Bend your knees so that your feet are under your knees. Now slowly raise your pelvis as high as possible. Make sure that you do not make this movement from your back, but from your pelvis. Your shoulders stay on the ground. Hold this position, with your pelvis as high as possible, for thirty seconds. Bring your pelvis back to the floor and relax here for a moment. Repeat this exercise a few times.
Breathing exercise to relax
Dealing with fatigue, stress and tension is always difficult and especially during your pregnancy. Something with emotions and hormones ;-)
By doing breathing exercises every day, you really take the space during this moment of the day to relax and recover. The added advantage is that when you get stressed, you know exactly which breathing exercise will get you back to relaxation.
- Also read our blog with 6 exercises for more conscious breathing -
Savasana for relaxed pregnancy
Have you practiced yoga before? Then you probably already know the Savasana, the wonderful relaxation exercise at the end of the yoga class. You are stretched out on your back, palms up and you do nothing at all. A wonderful moment to process all impressions and to just be.
Do you suffer from back pain during your pregnancy? Then put your lower legs (up to the back of your knees) on an elevation, so that you can relieve your back as much as possible and relax during the Savasana.
Cat Cow pose to relax your muscles
Get on your hands and knees with your hands under your shoulders and your knees under your hips.
Push your pelvis forward
Stretch your back and shoulders up
And your head down
You now have a rounded back and are in the Cat position.
Then come back to the starting position:
Now push your pelvis up
Your back and your shoulders down
Your head is tilted upwards
You now have a hollow back and are in the Cow position.
Repeat both exercises a few times to stretch and make your body more flexible. It loosens up your back, neck and shoulders, relaxes your spine and stimulates your blood circulation.
Butterfly to strengthen your pelvis
Your pelvis is one of the biggest areas of focus during your pregnancy. Exercises that strengthen, stretch and relax your pelvis are therefore very welcome. This butterfly yoga exercise is one such exercise that is very good for your pelvis.
Sit on the floor with the soles of your feet together, so that your knees fall out. Slowly let your knees drop out without pressing them toward the floor. Make use of gravity and let your knees bounce up and down gently. Don't force anything, just let it happen.
Yoga stretch to strengthen your pregnant body
If you see a very pregnant woman, there are often three things that stand out:
Her belly
Her big breasts
Her hands around her belly
Many pregnant women protect their baby and belly during pregnancy by putting their hands and arms around the belly. There is nothing wrong with this and it is only natural. It's just not really good for your shoulders and neck. Because you already have larger breasts than normal and your stomach is also heavy, you tend to hang more forward with your back and shoulders.
Doing a shoulder stretch a few times a day (clenching your hands behind your back and bringing your shoulder blades together) is a counterpoint to your pregnancy posture. You strengthen your shoulders and your back and your overall posture with this.
Legs against the wall against leg swelling
Women who are pregnant sometimes experience swelling in the legs. Do you too? Then, once or twice a day, lie with your back on the floor and your legs up against a wall. Your buttocks are completely against the wall, so that your legs can stretch well. This is very good for blood circulation, reduces stress and prevents swelling in your legs.

How often should you do prenatal yoga exercises?
It is best, of course, to do these exercises, or some of them, on a daily basis. Put on some quiet music and really make this your time. Even if it's just 10 minutes, everything helps to strengthen your body and posture and make you more relaxed.
Here they are, the yoga exercises I liked the most during prenatal yoga. I hope they help you too and I wish you a nice pregnancy. Enjoy it!
Namasté, soon the light in you will greet the light in your baby.