The Yoga Chakras: What are chakras and how does this work?
If you practice yoga, you have probably heard of the yoga chakras. Yet this is a subject that very few people really know about. It is also an exciting and vague subject that can generate quite a bit of resistance. For example, what do you think or do when your yoga teacher tells you to open your chakras? Chances are that you have no idea what they mean or how to do this. And that is not bad at all, but it is of course nice if you know something more about this.
That is why we would like to tell you more about the yoga chakras, what they are, how they work and what it means to open your chakras. And rest assured, it is not all that exciting and vague ;-)

What is a chakra?
First, let's see what is meant by a chakra. It is a word from Sanskrit and literally means "wheel". If we are talking about a chakra, we are talking about energy flowing through your body. In combination with the word wheel, you can therefore see a chakra as a wheel to let your energy flow.
Our body has many energy sources, energy centers, energy points or therefore chakras. It is just what you want to call this, but within yoga such an energy center is called chakra. Also within yoga it is not about all the energy centers in your body, but there are seven main energy centers: The seven chakras.
These seven chakras, ie energy centers, are located in your body along your spine. From the beginning of your spine to the crown. The idea behind these chakras is that they are all responsible for a specific aspect in our body. If your chakras are in balance, then you are probably in good health. Through yoga you stimulate the balance of your chakras.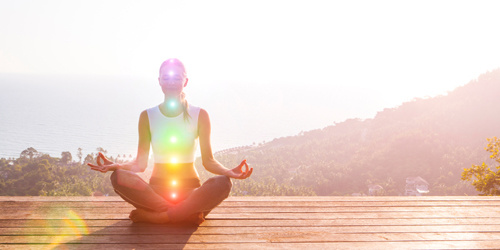 The seven chakras
As already mentioned, seven chakras are involved in yoga and to balance these seven. Each chakra also has its own color:
Root Chakra or Muladhara. This is red and is located at the bottom of your spine near your tailbone. This chakra stands for satisfaction, safety and stability. If your chakra is not in balance, then you notice restlessness and fear.
Sacral Chakra or Svadhishthana. This is orange and this is about two centimeters below your navel, by your sacrum. Emotions, expressing feelings, creativity, relationships and new experiences are part of this chakra.
Solar Plexus Chakra or Manipura. This is yellow and is located just above the navel. This chakra stands for happiness, energy and self-esteem. Achieve what you want to achieve.
Heart Chakra, or Anahata, this is green. It will not surprise you that it stands for love, warmth, trust, security and balance. This chakra is located in your heart area.
The Throat Chakra, or Vishuddha, is blue and is located in your throat, close to your thyroid gland. Your metabolism plays a major role in this chakra. It is a symbol for daring to express yourself and thereby cleansing yourself.
Forehead Chakra, or Third Eye Chakra or Ajna. This is dark blue and is located on your forehead between your eyes. This chakra is your conscience and is about the choices you make in your life.
Crown Chakra or Sahasrara. This is purple and is located around your crown. This last chakra ensures that all your energy flows optimally through your body. This chakra therefore ensures unity.

Opening chakras
By opening your chakras you restore the balance in your body, you ensure that your energy can flow freely again. Negative thoughts and chemically processed products such as food, cosmetics and cleaning products can ensure that your chakras are out of balance. Yoga, meditation and other exercises focused on your chakra help you to let your energy flow freely.