Want to buy a new yoga mat? With these three tips you will choose the right yoga mat!
Want to buy a new yoga mat? With these three tips you will choose the right yoga mat!
What are yoga mats praised or doomed for? This differs completely per person and per needs. Do you sweat a lot during yoga? Then you need a completely different yoga mat than when you don't sweat much. Do you suffer from your knees quickly? Even then, when buying a yogamat, pay attention to other things than when you don't have this. Are you mainly on the road and is your mat a fixed part in your suitcase? Then you will be much happier with a travel mat than with an ultra-thick yoga mat. So many people so many wishes, but you really are the only one who can decide for yourself which yoga mat suits you best.
How do I choose a yoga mat?
To choose a good yoga mat for you, pay attention to a number of points:
How thick do you want your yoga mat to be?
Most yoga mats are 4 or 5 mm thick, but thinner (travel) or thicker (more comfort) is also possible
Material of your yoga mat?
For which yoga style?
What budget do you have?
These questions play an important role in choosing the right yoga mat for you. For the material you can think of environmentally friendly or sustainable, do you want a mat that has good grip during more intense yoga styles or do you want more comfort during your Yin Yoga? We will discuss in detail below what you should pay attention to when buying a yoga mat.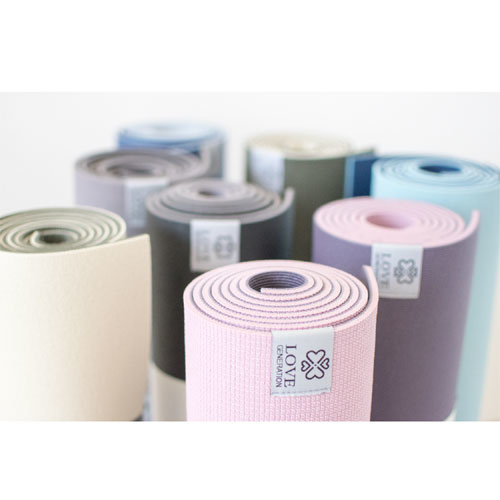 Pay attention to these three points when buying a yoga mat
Do you want to buy a new yoga mat? Then it is important not only to read the references of yoga mats. Or just to rely on the beautiful photos on Instagram. Or to go with the trend and then also to buy that one yoga mat. No, buying a yoga mat requires a thorough analysis of yourself. Do you have a good idea of ​​the type of yogi that you are? Only then can you look for the right yoga mat for you. These points will help you with this:
1. Thickness and weight of your yoga mat
A yoga mat has different thicknesses, which are usually indicated in millimeters (mm). The thickness of the yoga mat is not related to how good your yoga is or how long you practice yoga, but with your personal preference. Most yogi's have a yoga mat of 4 or 5 mm, this is the most common thickness of a yoga mat. This size is thick enough not to feel the cold of the ground ( we cannot all practice yoga in the warmth of Bali ;) ) and thick enough not to bother your knees during that low lunge yoga pose (Anjaneyasana).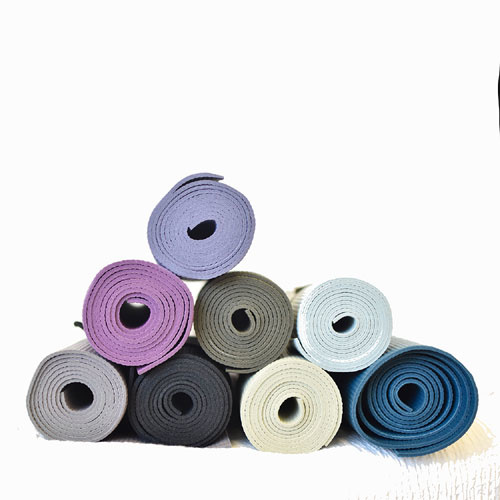 There are also thicker yoga mats from 6 to 8 mm. These are often used by yoga teachers, because these mats offer more comfort for your joints and spine. Or simply because it is just a little nicer during the Savasana. Or even thinner yoga mats, such as the travel yoga mat. This is extra thin and is easier to take with you when traveling. The mat is less heavy and fits better in your suitcase. The thicker the yoga mat, the heavier. Therefore, consider carefully how you take your yoga mat with you (walking, cycling, car) and whether the weight contributes to this or whether it will work against it.
2. Material of your yoga mat
Yoga has gained enormously in popularity in recent years and with it the number of yoga mats that you can buy has increased considerably. All of these yogamats consist of different materials that each have their own strong qualities. Do you find it important, for example, that the yoga mat that you are going to buy is environmentally friendly and biodegradable? Or do you find it important that you have a good grip during your yoga class, even when you sweat a lot? Or are you perhaps allergic to a rubber yoga mat and does a cotton yoga mat suit you better? Or do you practice yoga several times a week and do you think it is important that your yoga mat should last for several years? We have worked out the advantages and disadvantages of the different materials of yoga mats for you here.
3. Which brand of yoga mat do you choose?
Buying a yoga mat can be quite overwhelming. In addition to getting to know your own wishes and needs, Google has a lot of answers for you when you search for "buying yoga mat". There are many popular yoga brands that all sell the best yoga mat, so what are you paying attention to now?
First, it is important to determine your budget before you start looking for your perfect yoga mat. You can buy the yoga mat from our own brand Love Generation for as little as 24.95 euros, while the popular Manduka brand starts at a much higher price range with 79.95 euros. You can also pay attention to the vision of the brand, from which country they work if you want to stimulate the national economy, how high the shipping costs are, how long it takes before you receive your yoga mat, or if you get a strap or bag with the yogamat and how the customer service is.
Where do I buy my yoga mat?
Buy your yoga mat at webshops that sell yoga mats, such as Yogashop. You can also buy your yoga mat in a sports store or a cheaper yoga mat at Hema, Decathlon, Lidl or Blokker for example. Always pay attention to the quality, the shipping costs and how long it takes before your yoga mat arrives.
Buy the right yoga mat!
With these tips we hope that you make a good choice and buy a yoga mat that suits you completely. Nothing is more frustrating than being distracted during yoga because your mat does not fit you completely. But the opposite is also true, nothing is better than practicing yoga without external distractions.